Airhostess academies:
ground reality
Anisha Ralhan
With wings of ambition, fly high, when the sky is not the limit but a beginning." Promising a safe landing into the future, today more than 250 airhostess training institutes all over the country claim to provide a soaring career in aviation and hospitality. But with such dream jobs coming at a hefty cost, do these training institutes really deliver? 'Enrolling oneself in an airhostess training institute helps a job seeker in the industry, since the student is groomed by expert faculty, familiarised with the aviation infrastructure. All this acts as a boon for those who are not born confident and smart," claims K.S Kohli, chairman of Frankfinn Institute.



"It's not only about tying saris"

Careercature
Sandeep Joshi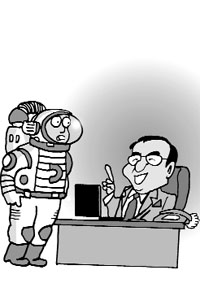 We had mentioned in your contract that you could have to go anywhere.

Smart Skills
Cultivated interest
Usha Albuquerque
There is a new buzz, and this time it is spreading into farms and villages — it is the buzz of a new and fast-expanding career opportunity — agri-business. Agriculture across India is heralding the country's second green revolution.



Event buzz
80 FMS students get degrees
One of the premier B-School Faculty of Management Studies (FMS), Delhi, recently conducted its graduation function for the MBA (part time) course. Nowadays, the MBA part-time course is quite popular among aspirants of Management Education as it helps working executives and professionals to develop strong conceptual fundamentals and skills required for leadership role.

Career Hotline
Stroke your creativity
Pervin Malhotra
Q I am a schoolteacher who pursues painting as a hobby. My paintings have drawn praise from art critics near and far. Now, I would like to turn my hobby into a profession and sell my paintings at galleries and auctions. Where should I begin?