Friday, August 10, 2007, Chandigarh, India
Updated at 3:00 am (IST)

Emergency Buzz
After Rice call, Pak rebuttal


A day after speculations that President Gen Pervez Musharraf had decided on imposing emergency in the country, the Pakistan government on Thursday categorically refuted the rumours that had gripped the country since last night.

World page: Pak SC notices on Sharif brothers
Freedom 60
Born in violence, India celebrates
New Delhi, August 9
Ranbir Rai Handa was just 14 years old when he was pitched into the madness of partition, forced to flee his hometown of Lahore on a train bound from newly independent Pakistan to India.
Old bridge falls
Pathankot/Nurpur, August 9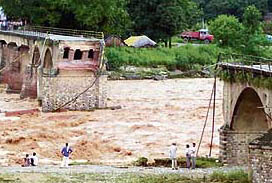 The inter-state Chakki bridge on Punjab-Himachal Pradesh border, known as lifeline of the Kangra valley, was washed in the wee hours today following torrential rain, which flooded the Chakki rivulet last night.