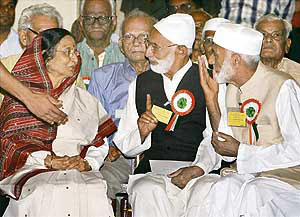 President Pratibha Patil with freedom fighters during at home hosted by her on the occasion of Quit India Movement Day at Rashtrapati Bhavan in New Delhi on Thursday. — PTI photo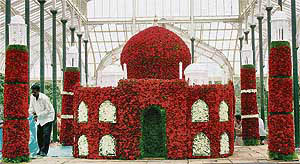 Wah Taj

: A man gives final touches to a model of the Taj Mahal, made by using 60,000 roses, as a celebration for its entry into the seven wonders of the world recently. The model is on display at the 60th Year Independence Day Flower Show at Lalbaug in Bangalore. — PTI photo
Centre reviews flood situation
New Delhi, August 9
The government today ordered quick disbursal of funds to flood-affected states after the union cabinet reviewed the grim situation prevailing in the country, which has resulted in the loss of 1,500 lives and an estimated damage of Rs 1,460 crore.
No preferential treatment to Sanjay: SC
New Delhi, August 9
Aware of Sanjay Dutt's conviction hogging the media headlines, the Supreme Court today dispelled any impression among the other convicted persons in the Mumbai blast case that any preferential treatment will be given to him in hearing of his appeal or bail petition.
Kidnapped tea executive freed
Guwahati, August 9
The Army gunned down a hardcore ULFA militant this morning while a surrendered member of the militant group was shot dead last night by ULFA militants in Tinsukia district of upper Assam. Meanwhile, the kidnapped tea estate executive was set free by his captors at Udalguri district today.
Gujarat Congmen clash with police
Gandhinagar, August 9
Congress workers here today clashed with the police during a rally held here to protest against the ''BJP government's administrative failure''.
UNPA to grill govt on N-deal
New Delhi, August 9
Strongly opposing the Indo-US nuclear deal, the UNPA has decided to press for discussion in Parliament under rules which entail voting.
Singur Case
HC's authority challenged
Kolkata, August 9
Appearing at the Chief Justice, S. S. Nirjjar's Division Bench at the Calcutta High Court yesterday, the state advocate- general, Balai Roy, challenged the high court's authority in dealing with the Singur's land acquiring cases.
Congress asks Ramoji group to surrender 'excess land'
Hyderabad, August 9
In its ongoing war with media baron Ch Ramoji Rao, the Congress government in Andhra Pradesh opened another front and initiated the proceedings to resume 1,363 acres of excess land from the Ramoji Group.
BJP condemns PM's remarks on N-deal
New Delhi, August 9
The Bharatiya Janata Party today took strong exception to Prime Minister Manmohan Singh's assertion that 123 Agreement between India and the US on nuclear deal was non-negotiable.
NH six-laning okayed
New Delhi, August 9
In a significant decision, the Cabinet Committee on Economic Affairs today approved six laning of 838 km of national highways, including Gurgaon-Jaipur and Panipat-Jalandhar, under the National Highways Development Project at an estimated cost of Rs 5,610.77 crore.
Tata's rooftop helipad plan hits roadblock
Mumbai, August 9
The Indian Navy has raised objections to a proposal by the Tata group to construct a roof-top helipad at the group's Taj Wellington Mews Luxury Residences in Colaba, South Mumbai.
PM releases book on Gandhi
New Delhi, August 9
Prime Minister Manmohan Singh today said that the message of Mahatma Gandhi was not confined to his lifetime or to a region but it was universal and all encompassing.
Lincoln's Inn membership for CJI
New Delhi, August 9
Chief Justice of India K.G Balakrishnan has been conferred membership of London's Society of Lincoln's Inn Bench, considered to be one of the prestigious jurists' institution in the world. Justice Balakrishnan is the third Indian to have been conferred the honour of an honorary Bencher of the Lincoln's Inn.



Videos
Graveyard reservation.
(56k)
Youngest tax-card holder.
(56k)
Nation pays tribute to martyrs.
(56k)