A toast to togetherness
Anandita Gupta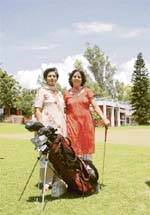 Move over the bai and the broom. It's now the ball that comes alive in their hands. They kick off their mornings with yoga sessions and golf and round off their evenings with a vodka or perhaps, a feisty mocktail. The convoluted twists and turns of their lives have moved beyond scheming, bitching and fighting over trivials to more adventurous things — riding a bike, playing chess, throwing surprise parties for each other, pillow fighting, shopping, clubbing, gymming et all.


ON THE GREENS: Binny & Shilpi Bath photo by Pradeep Tewari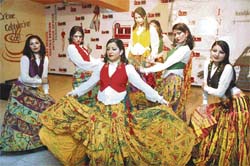 Saurabh Malik
CUT to think in contemporary terms, even the traditional is chic for the up-to-date fashion designers. Full of spunk and enthusiasm, these budding designers present the glorious past in a whole new style. Right, not just by using fashionable fabrics, but even futuristic cuts and designs!
photo by Vinay Malik
Lady with the Lamp(s)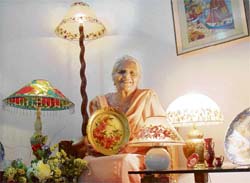 Anandita Gupta
SOFT, dreamy and diffused — some warm jewel tones snake their way through Surinder Kaur's living room to her corridor's staircase. Flattering her furniture and furnishings, this lighting is something Surinder's surely proud of. However, though this 72-year-old homemaker often marvels at her mood lighting, there's something else vying for her attention.
Her lamps steal away a slice of limelight from the lights photo by Malkiat Singh
New releases
A hint of desire, a touch of sportsman spirit
youth speak
Puneet Bhalla


Solar Power
Irksome power supply, towering electricity bills, and soaring prices of LPG cylinders all require us to switch to solar energy. One can install home photovoltaic power system and start using solar heaters, geysers and solar cookers for various household needs.

A friend & a gentleman
Former James Bond star Sir Roger Moore is desperate to work with his predecessor Sir Sean Connery. The 79-year-old veteran, who replaced Connery in the series of 007 movies in 1973, says he would like to work in a film with the Scottish actor and their friend Sir Michael Caine. "Sean, Michael and I are good friends. I'd like to drag Sean out of his self-imposed retirement," said Moore. — ANI

Saurabh Malik
Grave facts about HIV/AIDS have surfaced in a study carried out on 58 victims of the dreaded disease and the healthcare providers in Chandigarh and Punjab. It may be fatal to the claims of 'good work' made by so many government and non-government agencies, but the fact remains that even HIV/AIDS counsellors need counselling.

SIDELANES
Joyshri Lobo
We shall remember
July 7, 2007, was considered one of the most auspicious days of the century. Brother Jackie Kyle was called by his maker on that day. There was a beautiful memorial service for him at St. Stephens. Jackie must have looked down in satisfaction, noting the tributes, the recognition, the middle-aged, grey haired men who came to acknowledge his contribution to humanity and the shaping of boys in particular. Aman Minhas
OF all human desires, the wish to conquer time has been the strongest. No wonder watches that best describe this need, are getting bigger by the day. While the funky, trendy and showy time machines seem to be flooding the city, there are those high-end pieces oozing class. Big, showy watches seem to tempt teenage boys while men are preferring minimal, formal, classy and expensive timepieces.
Carnival with a Cause
Overcoming all disabilities, special children are all set to display their creativity in form of greeting cards during the two-day August Carnival that will be inaugurated at Hotel Shivalikview-17 on August 11.Saurabh Malik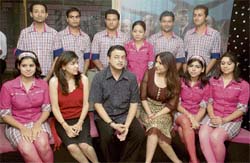 After making up a career for himself in the beauty industry, Bollywood's hottest make-up artist Cory Walia is all set to launch his training academy in the city. But before that, this man behind Lara's latest look in Jhoom Barabar Jhoom and Partner wants "some kind of control" on the mushrooming of cosmetic manufacturing units and beauty parlours in the country. "The government should really be exploring the feasibility of issuing licenses to the parlours staff and the management so that your looks are in safe and trained hands," says the Rang de Basanti make-up artist. .Parbina Rashid
It's a paradox. We read all the time how artists are still struggling after years, for, the city does not have enough buyers. And those who have made their mark have to take their paintings to the metros to find buyers. But then, if that is the truth, why are art galleries springing up and curators being constantly born?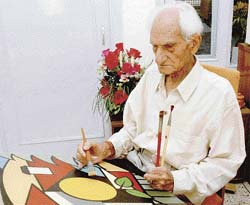 A beautiful mind
HE is like any other eighty plus — frail. But he takes the pain to get dressed up for the occasion and waits for you in the living room even before you ring the bell. You warm up to his persona, sitting there, engrossed in his surroundings. A little hesitation in our side, not knowing where to start. But the moment he picks his paintings, painstakingly preserved by his two daughters Prateema and Indira Rattan, conversation flows and along with it unfolds about 50 years of art history. Yes we are taking about B.R.Rattan, an artist as old as the Government College of Art.

A marvel in roses
THE Taj Mahal, created with red and white roses, is one of the major attractions at the Annual Independence Day flower show at Bangalore's Lalbagh. The flower replica is a tribute to the Taj Mahal, which has been specially designed to commemorate its entry into the seven wonders list. A global cut-flower giant said that over 60,000 roses have been used to create this Taj Mahal miniature.