Development disaster in the offing
Phase III sectors of Chandigarh lack basic amenities, says Pradeep Sharma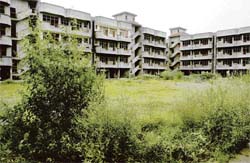 Civic amenities in Chandigarh, one of the most-planned cities in India, are the envy of the residents of other cities of India. However, a spurt in the population, particularly in the southern sectors, has put much-vaunted amenities under undue focus with the result that there is a clear mismatch in demand and supply.
Photo by Parvesh Chauhan
Vertical culture seeps through Ludhiana
Residents realise it pays to be in apartments within city rather than living independently on the outskirts, says Jupinderjit Singh
W

ITH the expansion of Ludhiana on all sides fast reaching point of saturation, apartment culture, especially fully furnished ones, seems to be the buzzword in this densely populated city. If earlier, it was only the government departments like the Improvement Trust, Housefed or PUDA that were taking on vertical construction, private builders have now jumped in the fray offering new, modernistic and innovative flats to the masses.


Photo by Inderjit Verma
Smaller towns hubs of activity, finds study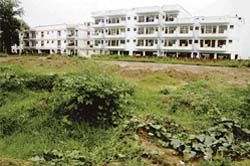 OWING to land exhaustion and skyrocketing realty prices in tier I cities, the development activity has shifted towards tier II and tier III cities. This is the research finding of Chandigarh-based PropertyVerical.com, which has come up with a research report on such towns. "Talking about northern states like Punjab, Himachal Pradesh, Haryana and Delhi NCR, there has been a remarkable shift in areas like Ludhiana, Patiala, Solan, suburbs like Mashobra, Naldera, Baddi, Kharar, Zirakpur, Dera Bassi, Kundli, Manesar, Sonepat, Indirapuram Phase III etc.
Valley homes don grey mantle
Ehsan Fazili talks to the man who replaced red bricks with concrete blocks
S

OLID grey concrete blocks have taken over traditional kiln bricks in the Kashmir Valley. Having been introduced in many areas outside the Valley earlier, this concept came into being nearly five years ago and is mostly centred around urban dwellings.





A.R. Rafiqi shows grey blocks he makes from concrete cement aggregate. Photo by Amin War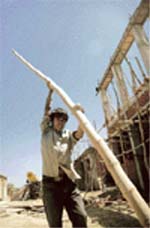 GRound REALTY
Know about dicey cold joints
The strength of concrete depends on water, cement ratio, says Jagvir Goyal
SOME guidelines were given in the last write up to take complete control of important activity of laying RCC slab and finish it in a perfect manner. Here are a few more tips:
Photo by Pradeep Tiwari

TAX tips
By S.C. Vasudeva
Compensation for compulsorily acquired farmland exempt from tax
Q. I am a govt employee. I purchased a piece of land (716 sq yard) at Kaithal in 1989. The land was compulsory acquired by HUDA. Is the land compensation paid by HUDA in 2006 is exempted from long-term capital gains? If I have to pay tax on long term capital gains, then on what rate?