In step with rhythm
Niti Panta meets dance therapist Tripura Kashyap, who says dance can works wonders, especially for the differently abled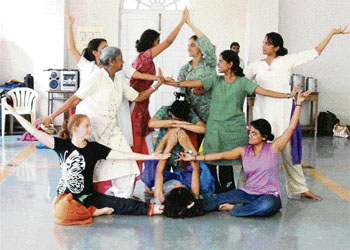 Dance therapy can be an uplifting experience
Did you know that dance is an ideal way to keep fit? It is a complete body workout which can burn more calories than walking, swimming or riding a bicycle besides correcting the posture. So if you want to shake your blues away and lose a few kilos then check into a dance class.
But do you know that dance can be emotionally therapeutic? If you don't then meet India's first dance therapist, Tripura Kashyap. She will tell you that dance is not just for entertainment but can be a physically uplifting experience as well.
Trained in dance from Kalakshetra College of Fine Arts in Chennai she was a performing artiste in the Chandralekha Dance Company for several years before going for an advanced course in dance therapy from the Hancock Center for Movement Therapy in the US. Today the lady is redefining the meaning of dance and turning it into a therapeutic experience.

Tripura Kashyap
Her book My Body My Wisdom`85A Handbook of Creative Dance Therapy (Penguin) describes this new dimension of dance in detail and is an easy-to-use guide to the new therapy taking the reader through the history, philosophy and practical aspects of dance.
"It is the first time in India that a book has been written on the subject," says Tripura. "The book has benefited a whole lot of people as dance can be a spiritually uplifting experience especially for those who wish to break out of restrictions imposed by society on our bodies."
After graduating in classical dance from the prestigious Kalakshetra in Chennai, Tripura was part of several dance-dramas choreographed by the late Rukmini Devi Arundale. Later, she joined the Chandralekha Dance Company in Chennai. She has also trained in Mayurbhanj Chhau (Martial art dance) from Orissa.
Dance as healer
Tripura now uses this non-verbal medium to help people find an emotional expression through especially designed rhythmic movements. "Dance brings out the subconscious in a person," explains the author who along with a friend has set up a dance therapy group called Rainbow Inc that works in collaboration with teachers, therapists and disabled children.
Tripura has over a period of time worked with special educators, therapists, teachers, social workers and mental health professionals using creative dance therapy for healing. "It is very beneficial for children with special needs. After every session, they are happy and more confident. They acquire a positive body image and feel good about who they are."
Dance therapy, she says, works wonders for a range of disabilities and, like yoga, it is effective in healing even where traditional medicine does not work. She strongly feels that more research should go into the therapeutic aspect of this art and hopes to get it introduced as a subject in the Indian universities.
For almost two decades Tripura has been designing special programmes for educators, teachers and social workers demonstrating how dance can be used to help disabled children. "These workshops facilitate teachers to use therapeutic dance activities in their educational curricula and treatment programmes. The effort is to build awareness."
Workshops for disabled
In her workshops for the disabled, Tripura focus on making the participants aware of their bodies and develop a deeper understanding of themselves. They are encouraged to think, memorize, feel and express ideas through dance.`A0`A0
Tripura's best moment came when she worked with a group of vision-impaired Bharatanatyam dancers. She specially choreographed a piece for them. "To my amazement they picked up the footwork immediately and started to dance with body and mind in tandem. It was as if they were in a trance, free of all fears. I have yet to experience something like that."
The dancer-author who has been working with the Henry Martin Institute in the northeastern states of India says that sometimes people are self-conscious and hesitate to dance in public. But the differently-abled are more liberated in body and mind and are faster learners. "The easier you can move your body in rhythm, the quicker will the dance therapy work for you. Basically, you have to be aware of your body and its expressive and communicative abilities."
Besides being therapeutic, Tripura says dance helps uplift emotions and is a meditative art that helps one gain peace and composure. "In many forms of meditation dance is used to bring about a peaceful mental state and to usher in positive energy. Dancing makes you feel good, is a worthwhile hobby and also easy on the pocket." So go ahead, dance your blues away. — NF
S