Quest for dignified existence
Harbir K. Singh
Human Rights: Concepts, Issues and Emerging Problems
by Suresh Kumar Soni. Regal Publications. Pages 180. Rs 480.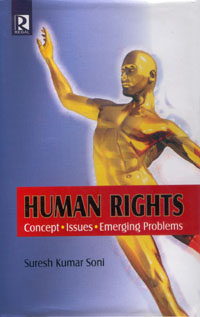 The right to live a dignified life is to make human life more fruitful and meaningful. Though human beings have suffered indignities since time immemorial, the society is trying to remove gloomy, depressing violations to establish human honour and dignity.
This book is a collection of papers by various scholars across the country. In The Concept of Human Rights, Jai Narain Sharma says the American Civil War was the result of oppression. " Nation cannot remain half slave and half free." The concept of human rights is closely related to dignity of an individual without taking into consideration religion, caste, creed, race, colour, sex, or the place of birth. It provides them with protection so that an individual can live and contribute to society in a dignified manner.
Suresh Kumar Soni in Human Rights: Genesis and Development says human rights are important and essential conditions of life without which one cannot perform. Westen ideas are traced back to Plato, Aristotle, Thrasymachus, Protogoras, etc. A human rights movement was started in Italy during the Greek period. It reached the climax to restore the dignity of man during the period of Renaissance and Reformation. In 1215, a struggle for the rights started and later crystallised in the form of Magna Carta. The King John was forced to give some liberties to British citizens. The human rights issue assumed significance on December 10, 1948, when the UN came out with the Universal Declaration of Human Rights.
Rakesh Bhardwaj and Paresh Prabhakar discuss the history of this movement from Magna Carta to till date. Narinder Kumar in The Teachings of Human Rights says everyone who joins judiciary, teaching, police and armed forces should be taught human rights.
Anil Dutta Mishra's Gender Justice and Human Rights, Sanjay Sindhu's Constitutional Protection of Women In India: Introspection and Prospective Vision and T. R. Sharma's Women and Human Rights deal with the violation of human rights due to gender bias. Dowry deaths, sexual harassment and domestic violence are few of the topics, which have been touched upon. In spite of UN declarations for equal rights, no country in the world treats its women well. Gender justice should prevail in every sphere of life. In India, there are articles 14, 15, 16, 23 and 24 for the protection of woman, but their implementation is the need of the hour.
Pooja Kataria's Human Rights in Hinduism and Narinder Kumar Gupta's Police Reforms and Human Rights deal with the problem of rights violation. Pooja takes entire religious heritage of humanity within its ample embrace. Gupta explains the reasons for violations of human rights by police and gives suggestions for improvement. Kamal Jeet Singh in Human Rights and Administration of Criminal Justice discusses the importance of human rights commission, criminal justice administration and constitutional safeguard of the rights of arrested person.
Humam rights situation in Pakistan is worse. Vidya Bhushan in Human Rights Situation in Pakistan first traces the root of fundamental freedom from humanitarian traditions and goes on to discuss the violation of human rights of minorities like the Hindus, Sindhis, Christians and the Ahmedi community. Bhushan also examines the pitiable condition of women, honour and encounter killings, abuses of prisoners of war, suppression of the media, etc.
There is need to propagate human rights culture across the world. For this every human being should undertake the responsibility. On the whole, this book is an eye opener.