On the road to a good read
Azera Rahman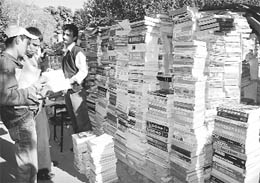 One can come across many a treasure on the pavement book stalls. Of all genres, fiction sells the most. Photo: Parvesh Chauhan
Whether in front of posh coffee joints or in subways, near multiplexes or across college gates, pavement bookshops selling original, second hand and at times pirated books are aplenty in he Indian capital. And book lovers flock to them because of the dearth of good public libraries. With their easy accessibility and attractive discounts, pavement bookshops offer everything a customer might be looking for.
"We sell original books and give a receipt as well. So if there are any complaints I replace it right away," said Mohan Kumar, who hawks his books near a popular coffee joint in Connaught Place. Surrounded by titles covering the entire gamut of fiction, non-fiction, religion, travel and the like, Kumar also offers a 20 percent discount on all books.
"I have been offering a 20 percent discount on all books for the past several years now. Since I get a profit of 11 percent, the discount doesn't pinch me. So it's good both ways," said Kumar. Thus, he offers the latest Harry Potter book, Harry Potter and the Deathly Hallows, for Rs 750 as against the listed price of Rs 975, and no pre-bookings are required here.
Kumar's pavement stall has been in existence for the past 25 years. "My father used to sell books here, then I took over. I easily sell eight to 10 books every day. Seventy-five percent of my customers are Indians while the rest are foreigners. But not many students buy books from me. They generally go for second-hand books which come cheaper," Kumar told IANS. Agreed Manish Kumar, another pavement bookshop hawker in north Delhi's Kamla Nagar area adjacent to Delhi University.
"Students mostly go for second hand books. Magazines are very popular with them," Manish said, pointing to the glossy magazines neatly stacked near the other books. Selling 25-30 copies every day, Manish said that although there are an ample number of bookstores in the capital, people buy a lot of books from pavement stalls as well. Shilpi Sharma, who works in an advertising agency and is a voracious reader, said that the lack of good public libraries is the bane of book lovers.
"When I was in college, I was a regular at the college library. Although it was not updated with the latest books in fiction and non-fiction, I still read a lot. But now I don't have much of an option. "To add to that, I never have the time to go to a big shop to look for a book. The pavement bookshops with their collections neatly laid out saves me time in hunting for a book and sometimes offer a discount as well. Hence I pick up a lot of books from them," she said. Amit Misra, a photographer, said: I am out shooting, I sometimes stop by at one of the book shops on the road and up picking up a book or two. There's this particular bookshop in Vasant Kunj I visit quite often. If he doesn't have something that I want, he gets it ordered from the distributor." One of the popular pavement bookshops, especially among
students, is the one near the PVR Plaza cinema hall in Connaught Place.
Selling second-hand books, this place offers some classics that you might not easily get anywhere else.
"People sell their old books to us, which are in good condition, and we buy those from them at half the original price. We then sell these books at a subsidised rate," said Mohan Lal, the owner of the bookshop. For instance, if a latest John Grisham costs Rs 275, a second hand copy of the same book can come for Rs.100.
Among the various genres of books, fiction sells the most. Paulo Coelho's The Alchemist and Dan Brown's Da Vinci Code have sold the maximum number of copies at my shop. Generally, I get two to three copies of each book from the distributor but for these two books I have had to place innumerable orders," Manish Kumar told IANS. Besides these, authors like Robin Cook, John Grisham and Ayn Rand remain all-time favourites. According to Mohan Kumar, Arundhati Roy's The God of Small Things and Shiv Khera's You Can Win are also bestsellers. "I have sold maximum copies of these two books in my shop. Lately, more than 100 copies of the latest Harry Potter book were bought," he pointed out. Besides the seventh edition of the Harry Potter series, Kiran Desai's The Inheritance of Loss and Khaled Hosseini's The Kite Runner are also selling like hot cakes these days. Most pavement stall owners steer clear from selling pirated copies. "Pirated copies might come cheap and attract customers initially. But most of the time either the print quality is very bad or pages will be missing. Hence people generally don't buy them. So we stick to originals," said a pavement bookshop owner.
Of course, the most popular, and oldest, of pavement book shops springs up every Sunday at Daryaganj, at the edge of Old Delhi, attracting thousands - the young and the old alike. The Sunday bazar is truly a book lover's delight. — IANS