FASHION
Look funky, not odd
Dolly Sagar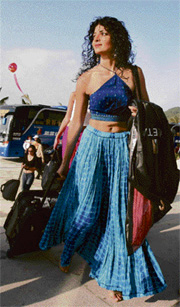 If you are going for a party, then naturally you will think of wearing a funky or bizarre dress so that it will be noted as an interesting one. As such you have Saturday night bashes when teenaged girls can flaunt their micro bikinis and crew-cut lads wear exclusive black shirts. If their parents are also part of the party, invariably the moms will be in jeans and the dads in shorts and colourlful T-shirts. But if it is a formal party, then you will find ladies with red/orange sarees with zardozi embroidery and fully 'booted' and 'suited' husbands.
In today's fashion world, the above dresses can be classified only as amateurish and fashion designers are trying their best to make you look funky enough to be noticed, but not enough to be classified as odd. Noted designer Krishna Chowdhury, specialist in party wear, has come with mix and match dresses, coupling georgette tops with pants/trousers dyed in the earthy colours. For a variation you have black linen georgette tops worn with pin-tucked collars, matched with fur-trimmed satin shirts.
If the party-goers are teenagers, then you have the choice of V-front strapless kurtas coupled with mask shoes, or off-shoulder tunic sets with multi-coloured stoles.
One recent addition to party circuits is the beaded skirt, coupled with mussel shell brassieres and an organza silk overcoat to cover the dress. Such a dress cannot be called punkish and passes muster as a sort of romantic one.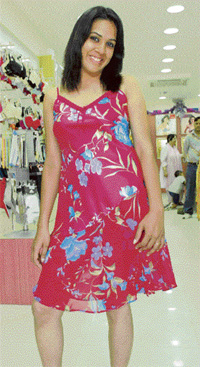 The idea is to ensure that what you wear can be classified as celebratory party wear, defying rules of fashion and yet not appearing to have gone overboard. For the more daring, we have even blouses made of hand-made paper coupled with satin trouser accoutrements. Another variation is laser-treated plastic laminate inserts in loose shirts and trapeze blouses worn on faux grass shirts with matching silk veils, so that you can be called "bold" and extraordinary.
Recently a party wear show featured the so-called Goan line with coconuts stringed in swinging necklace form over a cream tunic set and off-white rice pearl chiffon sarees with a silk organza choli and 'hand-worked' with bright gleaming rice pearls.
If you are a stickler for convention and yet want to start out in a celebration, fashion designer Krishna Thakurta has jazzed up plain salwar-kameeze with appliqu`E9 work and her compeer Mridula Sehgal has brightened up parties with her combination of ornate mirror work blouses matched with jewel-toned crepe sarees.
Then some of the fashion designers have latched on to Indo-western patterns, creating mix and match combinations of ghaggra/choli with harem pants , mini kurtas and waistcoats in the normally unconventional colours of beige/grey/slade. But they also ensure that these ensembles are combined with dazzling tonal embroidery. Party-goers agree that the effect is quite dramatic.
When it comes to men's fashions for parties, you have Usha Talukdar, who has cornered the party-wear market with dhotis/sherwanis/kurtas/Jodhpuris, fashioned out of such exotic material like Benares hand-woven shaheen silk.
For the gentlemen favouring a sporty look, you have fashion designer Harish Singhvi offering close-fitting pin-striped trousers and jeans in different colours suitable for your personality. If you want to look rough and tough you have only to team these with skin-tight lycra T-shirts with stripes down the front and on the sleeves.
If you are conservative, then you can opt out for traditional bandhgalas but embellished with embroidered collars/cuffs/yokes and panels.
Then you have the western wear for the not-so-young who would prefer to choose from an assortment of jackets/blazers/shirts. Here it is to be noted that pastel shaded shirts are invariably attention- catchers. — MF