Food Talk
Dil maange murg
Surkh murg is refreshingly light and resilient enough to let each cook play around fancifully with spices, writes Pushpesh Pant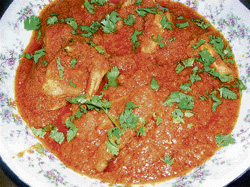 The good old murga encounters us in myriad avatars: tandoori, curry, qorma, kalimirch, buttery, karahi, tikka and more rarely as musallam. And, this is not an exhaustive list by any means ó just an illustrative one! (the Hyderabadi will surely kill us for omitting dumka or khatta and the city of Chennai will protest shrilly when it finds chicken 65 missing from this ad hoc list of honour).
But there are times when the jaded palate, or the spoilt tongue, call it what you may, yearns for something else. Yeh dil maange more. Not only does it yearn but also keeps nagging: Is there a recipe that blends attractive features of some of the most popular, time-tested delicacies, is easy to prepare and is yet different to register its own personality.
After what seems, in retrospect, an unnecessarily long wait, we have, at long last, assisted by beloved Indrajit, struck gold. Let us not detain you with a recitation of the litany of failed experiments. What matters is the end product ó tasty, visually appealing, refreshingly light and resilient enough to let each cook play around fancifully with spices.
You may happily replace cinnamon and clove with kasuri methi or enhance the kali mirch treating it as the dominant note in this culinary symphony. In case you prefer ginger, the paste can be pleasantly accented with sonth. There are some who like it hot; they are welcome to substitute Kashmiri lal mirch with more scorching stuff.
There is this cousin who has dared to play an uttar-dakhin jugalbandi by adding a tempering composed of curry patta and mustard leaves. If you are one of those who prefer not to step out adventurously on the less tread road and donít share the view that familiarity breeds contempt, you can stay faithfully with time tested good old: dhania, jeera, haldi.
Chefís corner
Ingredients
Chicken (medium, skinned and cut in 8-10 pieces) one
Tomatoes (medium-sized, chopped fine/grated) four
Onions (medium-sized sliced very fine/ ground) two
Ginger paste 1 tbsp
Kashmiri lal mirch 1 tsp
Cinnamon powder 1/2 tsp
Clove powder 1/4 tsp
Sugar 1 tsp
Garam masala (optional) 1 tsp
Green chillies (deseeded and cut fine) 2-3
A large sprig of hara dhania
Vegetable oil 150 ml
Oil to deep-fry chicken
Butter 25 gm
Method
Wash the chicken and pat it dry. Heat oil in a thick-bottomed pan and brown the chicken pieces in batches. Place on kitchen towels to absorb excess fat. In another pan heat 150 ml oil and brown the onions. Then put in the tomatoes, ginger paste and the powdered spices (except the garam masala) along with salt and sugar. When the fat begins to leave the side, add chicken, stir well. Reduce the flame to medium low. Cover and cook till done to taste-about 20 minutes.
Melt the butter and finish the murg with it ó glazing it with a makhani coat. Sprinkle garam masala if using, garnish with green chillies and hara dhania. You may squeeze a few drops of lime juice to adjust the sweet íní sour taste to your palate. Enjoy with phulka or rice.