Birthday bash for tigers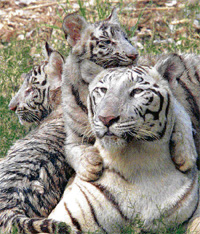 It was a birthday bash with a difference. Three white tigers, Rishi, Sitesh and Prachi, who turned three recently, had a memorable day at Nandankanan Zoological Park in Bhubaneswar, complete with a cake-cutting ceremony. "The day was celebrated with cake-cutting amid cheers from zoo visitors, officials of the state Wildlife Department, wildlife experts and media persons," zoo director A.K. Patnaik said.
"We provided the carnivorous animals specially designed furniture in their respective enclosures to make the day memorable for them.
"They were encouraged to play with the furniture to keep their senses honed. It gave them a feeling of change," he said. White tigers are endangered animals. At present, there are only about 200 of them left in the world.
Nandankanan, meaning the garden of the gods, was established in 1960 on the outskirts of the Bhubaneswar. It is home to about 11 white tigers, Patnaik said. — IANS