Men in the kitchen
Male roles in Hindi films have undergone a change. In many a recent film, men appear as cooks and gladly so. Shoma A. Chatterji looks at how filmi heroes are donning the apron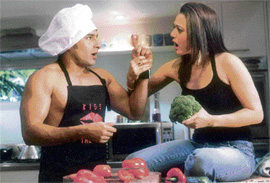 In Salaam Namaste, Saif Ali Khan is cast as a chef.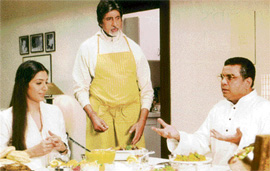 In Cheeni Kum, Amitabh Bachchan, a head cook with an Indian restaurant in London, prepares a meal to impress his father-in-law Paresh Rawal and Tabu.
Hyderabadi zaffrani biryani should not contain a single grain of sugar, right? Right? Who says so? No less than the head chef and proprietor of Spice 6, the only restaurant in London that offers pure and authentic Indian food to its elite clientele. And who, pray, is this chef? His name (in the film) is Buddhadeb Gupta and in real life, the name is Amitabh Bachchan. He insists on eating his mother's cooking at home though he forever compares it with the stuff dished out at Tihar Jail. This is a brief character sketch of the 64-year-old, pony-tailed hero of Cheeni Kum who falls for the 34-year-old Indian woman who sends his sugary Hyderabadi zaffrani chicken biryani back to where it came from – the restaurant's see-through kitchen.
The next day, this Punjabi beauty cooks the dish herself and sends it to the arrogant, nagging and short-tempered Mr Gupta to show him exactly how the dish ought to be cooked. The rest, as the clich`E9d saying goes, is history.
We are not talking so much about the film here or the pony-tailed Amitabh Bachchan doing the role of a chef for the first time in his life. It is about the slow but sure metamorphosis in the characters of men in some recent films in Bollywood. They can cook and in fact, they love to!
A recent article tom-tommed the fact that in real life, Bachchan can't boil an egg to save his life. But on celluloid at least, he dons the chef's cap with gusto.
In the small-budget Bas Ek Pal starring Juhi Chawla, Urmila Matondkar, Jimmy Shergill and Sanjay Suri, Steve O'Brien (Rehan Engineer) who is married to Ira Malhotra (Juhi), and is a failure, tries to soothe his wife by cooking surprise dishes for her.
"I'm making thukpa," he tells her as she steps in one night, tired of being battered and abused by him over and over again. The marriage is all but over but Steve pathetically tries to keep it going with his culinary talent. Needless to mention that this does not help save the marriage but it does wonders to the characterisation where director Anir underlines that the cooking at home need not strip a man of his manliness.
In 2000, Rachel Dwyer, who teaches cinema and Gujarati at the School of Asian and African Studies, had her book on Hindi mainstream cinema released at London's Chore Bizarre restaurant.
The name of the book is, All You Want is Money, All You Need is Love. One wonders why, since neither food nor kitchens form a part of her book, they should choose an Indian restaurant for its release.
If Buddhadev Gupta were around, he would have been scandalised to see his culinary skill being challenged by a British author who has the gumption to spout scholastic jargon on Hindi cinema at his august restaurant.
In Dhoom, Abhishek happily cooks for his beautiful wife while in Dhoom2, he goes one step better – his wife is now happily pregnant and he dishes lovely pomfret fry which she savours as she lolls and relaxes on the sofa. In Dhoom2, the tremendous on-screen sexual chemistry that sets off between the artistic thief (Roshan) and his willing disciple (Rai) is further enhanced when one discovers that he has actually cooked a healthy dinner for her with the dishes spilling over with salad greens. The lady, already bowled over by his skills, his rippling muscles and his killer looks, is taken by surprise to find that he is a wonderful cook as well.
In Salaam Namaste, Saif Ali Khan is a chef and pretty proud of the fact. In an ad for a famous brand of crispies, Khan says he is attending cooking classes to make "wow bhaji!"
In the last scene of Cheeni Kum, Buddhadev's mother (Zohra Saigal) tries to bring a smile to Neena (Tabu)'s father (Paresh Rawal)'s face by pointing out how lucky he is to have dinner cooked and served by his son-in-law instead of a daughter-in-law!
Every single cook in the restaurant's spic-and-span kitchen in the film is a man. Well, the same goes for most of the great kitchens in the world. There is a downside to this story as well. Why are these great chefs, Saif in Australia and Bachchan in London, placed far away from poor old India? Think about it.—TWF