India comes alive in Hollywood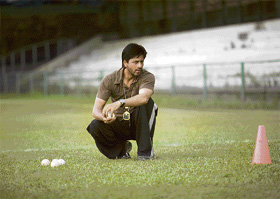 Shah Rukh Khanís latest film, Chak de India, is being premiered at the festival
India is showcasing its developments in independent cinema, arts, technology, business and spirituality to Hollywood.
India Splendor, a unique festival running from August 10 to 15, will convey the progresses the country has made in these fields to the Hollywood beat.
The festivalís theme is "Heritage, Holistic and Hi Tech", and will launch an exclusive portal for distributing modern Indian cinema, and provide meaningful dialogue with spiritual and business leaders.
The festival has listed a plethora of high-flying Indian nationals including film producers, directors and performers as well as politicians and spiritual gurus, to participate.
Overlapping with the 60th anniversary of the nationís independence, "India Splendor" is organised by MGlobal Trust in cooperation with ICM and the UCLA School of Theatre, Film and Television.
"Our vision has been to bring all the facets of Indian culture, including our booming film industry, to the U.S. in jointly celebrating this momentous mark in history," Variety quoted Bhupendra Kumar Modi, chairman of Indian conglom MCorp Global, as saying.
The whole idea behind the event, according to the organisers, is to make the Indian culture more reachable to US audiences.
"Indian cinema is an important force, and we are pleased to help lead an exchange of ideas and artistic expression between filmmakers from Mumbai to Los Angeles," added ICM chairman-chief exec Jeffrey Berg.
Among the festival highlights are the premiere of Bollywood superstar Shah Rukh Khanís latest film, Chak de India, a tribute to veteran Bollywood actor/director Raj Kapoor, film screening of Gandhi, with actor Ben Kingsley, a fashion show by top Indian designer, Suneet Verma and dialogue with India-born Hollywood producer Ashok Amritraj, who will also preside over as the eventís cultural ambassador. ó ANI