Bond with the blind
Darshini has an all-women team of 75 volunteers. Despite the fact that none of them is specially trained to deal with visually-challenged students, the women have become an irreplaceable part of their students' lives, writes Hema Vijay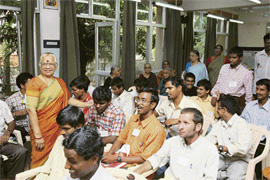 A proud Sowmiya Ramasubramanyam, one of the founder-trustees of Darshini, with her students. — Photo by Seven Shots
Hema Sridhar, a banking professional, recently retired from her hectic nine-to-five job. Earlier, her days were filled with meetings, lengthy paper work and even housework; now she suddenly found herself with a lot of time on hand.
Not one to stay inactive for long, Hema began looking for a vocation. She didn't have to look far. Her search led her to Darshini, where a group of women come together every day to read, teach and help visually-impaired students.
At Darshini, a school for the blind in Chennai, women like Hema volunteer to read out lessons, record tapes, teach spoken English and communication skills, help with project work, act as scribes during exams, give pep talks... in general, prepare students to become job-worthy and confident individuals.
Says Padma Narasimhan, a founder-trustee: "Their commitment to Darshini is amazing. I have even seen some women taking their students to Connemera Library, at the other end of the city, just to help them with research for some subject. Without these women volunteers, the school would not have been able to make any impact in the lives of these children."
Darshini was established by a group of five women—Padma Narasimhan, Sowmiya Ramasubramanyam, Bhagyam Arunachalam, Veena Batra and Mangai Krishnaswamy—who came together while working at a branch of the NGO, Exnora. "As part of the Adyar Civic Exnora, we were involved in many projects. Helping out blind students was just one of them. We decided to focus on visually-impaired students," reveals Sowmiya.
Today, Darshini has a dedicated all-women team of 75 volunteers. Despite the fact that none of them are specially trained to deal with visually-impaired students, the women have become an irreplaceable part of their students' lives.
"Our volunteers establish a personal bond with the students they tutor, which helps them to open up and learn easily," remarks Padma.
In fact, with the support of the volunteers, most of whom are in their fifties, Darshini has been able to provide several facilities to its students. The school runs entirely on donations, with a good part coming from the volunteers and their extended families. It has been able to build up an audio textbook library with over 1,500 tapes, with volunteers doing the recording at home. Scholarships are also offered to needy students to pursue higher education.
Darshini has student-members from across the state, most of whom are in the city to pursue higher education. Once they arrive, they invariably become members of the Graduate's Association for the Blind, which puts them in touch with Darshini. "Most of these boys come from villages in search of a better life. They live in government hostels in the city, and have nobody to help them out," says Sowmiya.
Says V. Govindaswamy, 21, who is pursuing an M.A. degree from Presidency College: "I have seen many of my fellow students discontinuing their studies, unable to cope with the demands of higher education. But our teachers have developed our capacity and confidence so much so that many of us have got respectable jobs now." In fact, with Darshini's help, as many as 50 students have been able to secure jobs as teachers. '''What we now need is to help our students find jobs in the bigger arena, outside teaching. We are looking at the IT-enabled services (ITES) segment in particular," says Padma. "Some students are already cyber-savvy.
They are familiar with high-tech software such as JAWS that reads out written text on PCs and mobiles," she says proudly. Well-known Tamil writer Narasiah, counsellor Brinda Jayaraman and more recently Wing Commander V. Ravi, Chief Ground instructor, Flying Instructors School, have been visitors at Darshini. Says Wing Commander Ravi: "Despite the visual handicap, the boys have an enormous grasping power." He has a word of praise for the volunteers as well: "These women are doing a remarkable job in helping them reach their potential."
Yet the women feel that their association with the children is mutually beneficial. As volunteer Kausalya puts it: "It is not what we give to them, but what they give us that is so precious—a sense of satisfaction." — WFS