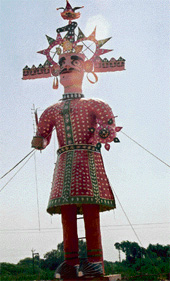 With blessings from Ravana
Ravana, the mythological demon king, is generally remembered as an embodiment of evil. But for residents of Madhya Pradesh's Khonpura village, their 45- foot Ravana idol is a god. Built in the village's open ground, the Ravana idol is said to be 250-300- years-old.
Members of the local Namdev community worship the Ravana idol during the Dasehra festival. In other parts of the country, on this day Ravana's effigies are burnt on the occasion as victory of good over evil.
Villagers believe that praying before the idol will help them overcome difficulties. Be it typhoid, jaundice or any other illness, villagers pray to Ravana to help them. Even after childbirth the newborn is brought here for Ravana's blessings. — ANI