Television
A date with celebs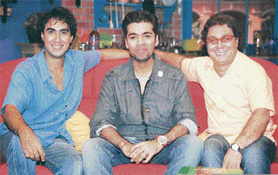 Ranvir and Vinay with their first 'victim' Karan Johar.
Their on-screen IQ rates them as dumb and dumber but up close Ranvir Shorey is loaded with attitude. while Vinay Pathak resembles a prankster with a permanent smirk.
A decade ago when the two teamed up as a stand up comedy act in House Arrest on Channel V, viewers were convinced they would go far in their careers. And far they have come. From itsy-bitsy roles to high-end comic performances on small and big screens, including films like Jism, Mixed Doubles, Khosla Ka Ghosla and Bheja Fry.
Now the two come together once again in Ranvir, Vinay aur`85 Kaun? Monday to Thursday at 10 pm on Star One. The two are on an interviewing spree and determined to bring out the 'other side' of a celebrity in every show.`A0 From cutting onions, preparing tea to dancing, this show presents a different picture of the celebs.
Ranvir, Vinay aur`85 Kaun? is a fun alternative to conventional interview shows. It is set in their new bachelor apartment, which is visited by various celebrities and results in wild, whacky and often surprising conversations.
So sit back, grab your pack of popcorns and get ready for some great entertainment.
Chariots of fire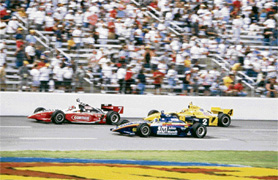 Escaping Death: Race Car Drivers presents thrilling moments
Driving a racecar is one of the most dangerous jobs on the planet. Expect at least one death every year and spectacular crashes at any race. Yet the sport of auto racing is as popular as it is dangerous.
Escaping Death: Race Car Drivers at 10 pm on the National Geographic Channel on August 21 focuses on the life of these modern-day gladiators. They are the superheroes who earn in millions and have fans chasing them around the globe. Major auto races draw larger crowds than the World Cup football and cricket series, the Super Bowl and the NBA finals combined.
This one-hour documentary takes a close look at the challenge-driven individuals who take on this job. Why do they do it and who are the people behind the scenes, supporting them in this line of work? It's a career where the passion of the drivers feeds off that of the crowds, and has allure as potent as the powerful, earthshaking roar of the engines.
Watch them as they burn rubber in the adrenalin-pumping racetracks around the world. — NF