ulta pulta
Hard trash
Jaspal Bhatti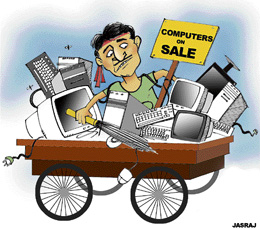 By 2009, the sale of laptops is expected to surpass that of desktops. The rate at which newer computer models are appearing and the older ones being discarded, chances are there is going to be a lot of junk. Soon one might find big dustbins in the market saying "Please throw your computers in the bin", or another notice reading "The throwing of laptops, cell phones and cameras on the road is prohibited."
Many a time if you reach home late after buying a computer, chances are your model may be outdated. A report says that 20 to 50 tonnes of e-garbage is generated from discarded laptops alone.
The day is not far off when your garbage cleaner may quote his new rates, "Sahib, normal kooda karkat ke 200 rupiye aur e-garbage ke 500 rupiye mahine alag!"
Recycling experts will then have to put their brains together to devise new ways to dispose of e-garbage. I suggest we could make lunch boxes; make up boxes or small briefcases out of these outdated laptops.
If we fix a dainty mirror in place of the LCD screen, women could do their hair. An onlooker would then say, "She seems highly educated. Pata hai woh e-makeup karti hai!"