It may not offer freedom after midnight, might be slow, sleepy & strict but hey, Gen-Y, what about all it does offer? Purva Grover lists the city's A-Z of freedom. Surely, a must-do this Wednesday
Hungry at 3 a.m.? Head to Aroma-22 or a handful of coffee shops. Need fuel at an odd hour? Drive around for a 24-hour pump.Want to catch a blockbuster? Book yourself at the one and only multiplex. (The one that didn't even get Harry Potter) Planning a gehri in the middle of the night? Warning: Police patrolling.Got a late night shift? Be sure the city will be fast asleep at your pick-up time.Want to party hard? Oops… retired neighbours threaten to complain to the MC.Is the freedom women enjoy in town pretty much cosmetic? Anandita Gupta finds out


It's

time to salute the flag again and pledge to keep it flying high. It's time to encapsulate 60 years of our freedom in one-day national celebrations. And it's time to get into a one-day desh-bhakti mode. But, before we do that, let's change gears, rewind to our past and ponder — how independent are we? For, aren't we still in the tight grip of gender inequalities? Some city-women look back in anger:S. D. Sharma
Capturing the opulence and splendour of nature in all its manifestations is an obsession for Manoj Singh, deputy general manger of the BSNL, which started during his service in the panoramic Shivalik hills of Himachal. To give vent to all his emotions, Manoj delved into literary pursuits. Though his official commitments kept him busy, the sensibility of a writer emerged stronger enough to register its presence.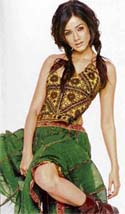 Little Interview
Reel captain, real spirit
Purva Grover


She

made her debut in Vikram Bhatt's Inteha. Aditya Chopra spotted her on a countdown-cum-travel show on Zoom and next, she was cast opposite Shah Rukh Khan in Chak De India. A trained Kathak dancer for 12 years, dance is her first love. She has also learnt Salsa, Ramba, Samba, Cha Cha Cha and more. Vidya Malavade, the reel captain of Team India talks on SRK, hockey and more.

write to Renee
I am a 23-year-old girl working with a bank. I have been dating this guy for the past five years and our families have accepted our relationship. But I went to England and when I came back, I found he has been taking drugs. I am alarmed by the situation. How do I deal with this?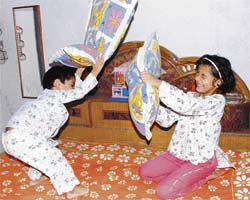 I-Day is knocking at the door and for all those who are not going to spend it singing Vande Mataram, here's how. Keeping with the spirit of the day, just follow your heart, do something, or nothing. Just indulge, says Anandita Gupta
No kidding
Parents think they are neighbours' envy, owners' pride. Brands woo them more than adults. Adults feel they own the world. But ask kids, and they aren't happy enough. "Wish we could be free like grown ups, do whatever we want," they lament. For a change, lets listen to them and allow them the following freedoms, just this once, in the spirit of the day:
The success story
G. B. Dutt, creator of Nikki, the 007 girl, is all set to give Rowling a run for her money. Saurabh Malik chats him up during a brief stopover in town
Harry Potter has got a rival. And, she is none other than India's teenage adventurer Nikki. You may find it incredible, but the little explorer is already finding its place along Harry Potter on bookshelves across the country.

HAYWIRE
Dressing down docs
Chetna Keer Banerjee
If you thought screen sirens were the only ones with ideas on dressing down, you need some filling in on the latest. Filling, actually. For, it's the dental students who're making a fuss, not over floss but image loss. Extract the staid salwar-suits from our dress code, bring in the jazzy jeans, they say.
Matka chowk
Thodi si zameen
Sreedhara Bhasin
When we moved to Chandigarh, we thought it was great to have a huge khaali zameen next to our house. It held promises of better breeze, proximity to less concrete and a semi-scenic view. We have since then radically altered our view.

Buy for a cause
The second annual August Carnival at Shivalikview, Sector17, promises more than just a shopping experience. With 50 participants from across the country, the 'bazaar with a cause' offers something for everyone. You can pick on artificial jewellery, home accessories, western and Indian wear, fashion accessories, designer rakhis and much more. On display are home accessories in metal with imitation gold work by Delhi-based A.R.Creations. You can pick lampshades, candle stands, coasters and photo frames (Rs 550 onwards) from here.
He paints nature with love
Ten-year-old Kunall Banerjee loves interacting with nature and his love finds an expression in his paintings. Using water-colour, dry pastels and oil pastels, he has come up with 45 paintings, which are on display at a one-day exhibition at Hotel Aroma-22.
Lost and found
Veronica Mars star Kristen Bell might star in the new season of television series Lost. The 27-year-old actress is reportedly in talks with the show bosses to play a new character called Charlotte in the castaways' caper.