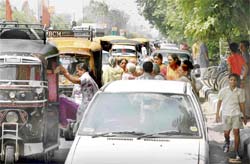 Viruses are no longer restricted to computers. A lot of city residents are complaining of viruses hitting their mobile handsets. The result is software, in most cases that of text messages, getting corrupt. The virus comes through a text message from a strange number. The recipient then continues getting messages in large numbers. In most cases only after the receiver switches a set off that the messages stop coming. Technology, after all, does not only have boons!
Political efforts
Politicians and corruption, they say, go hand in hand. What does one say when these very politicians make all efforts to rouse people's emotions by playing patriotic songs on their campaign vehicles? "That is the easiest way to fool people," an irked resident commented.
Lifestyle blues
If you are still far away from middle age but are already feeling that your memory is fast giving away, then you are not alone. Thanks to fast paced lifestyles, leading to increased stress levels, such problems have become quite common. An employee of private insurance company said due to heavy work pressures, he had begun forgetting names of his clients too. Now unable to meet targets, he is trying hands at all techniques that can help curb stress!
Crossing fingers
Ludhianvis might not have their full share of rains due to a comparatively drier spell this year, there is no escape from the seasonal diseases. A large number of people have fallen prey to viral fever, gastroenteritis and eye flu also. Residents are now keeping their fingers crossed that they are spared of dengue fever, that spreads in this season every year.
Getting popular
Opening up of organised vegetable retail sector has seen the residents lapping up the idea with gusto. Sick of being dependent on kiosks, they have taken fancy to the outlets selling vegetables. While all this has the rehriwallas fuming, the residents are a happy lot as the middleman's share has been transferred to their kitty as the goods are pocket friendly.
Cruelty
If plight of animals in the city is anything to go by, this industrial town is grossly short of animal lovers. Overloaded carts are a case in point. On the the road near Domoria Bridge horses being cruelly treated their inability to maintain their pace on the slanted road is a common scene. The poor animal, that one side carries heavy burden while the other is beaten by the cart rider, makes hard attempts to drag itself. Wish animal lovers came forward to save the mute ones.
Pain in the neck
As the MC elections are over and all hulabaloo has come to an end the residents have heaved a sigh of relief. Otherwise the candidates had left no stone unturned to get their candidature registered. The campaigning had witnessed such a steep rise this time that there was total chaos on the roads. No wonder that the commoners have started taking elections as a pain in the neck.
— Sentinel