Pak to free 135 Indians today
Tribune News Service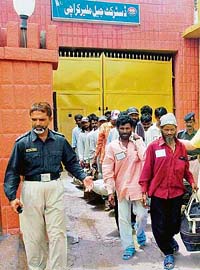 TASTING FREEDOM: Indian fishermen follow a policeman after being released from a jail in Karachi on Sunday. — AFP photo
New Delhi, August 12
As a follow up of a recent meeting between Directors General of the Indian Coast Guards and the Pakistan Maritime Security Agency, Islamabad has agreed to release 100 Indian fishermen and 35 civilians.
They will be released tomorrow and all 135 of them will be handed over to the Indian authorities at Wagah-Attari border, Pakistan deputy high commissioner Afrasiab said here today.
He said the Pakistan government has decided to release them after the matters were discussed last week by the officers concerned from both countries.
The decision was taken at the Indo-Pakistan home secretaries level talks held here on July 2 and 3 and the follow-up action was taken in accordance with the joint statement issued after the talks.
The two countries had agreed to release fishermen and civilian prisoners by August 15 as a humanitarian gesture. This will be the third time that Indian fishermen, who had strayed into the Pakistan side, are being released by Islamabad in nine months.
Earlier, Pakistan had freed 50 fishermen and 20 civilians on December 23 last year.
After tomorrow's release, nearly 300 more Indian fishermen continued to be in Pakistan jails
The government is making every efforts to ensure their early return to the country and further negotiation on the issue with the Pakistan authorities is likely to be taken up soon, sources said.
The Ministry of External Affairs and other authorities have made arrangement to receive the released Indian citizens at the border, they said.
At the recent meeting between the DGs of the Indian Coast Guards and the Pakistan Maritime Security Agency, it was agreed upon that both sides will coordinate in the release of fishermen, who cross over to each others territory unintentionally.