M A I N N E W S
India's interest unharmed: PM
Rajeev Sharma
Tribune News Service
New Delhi, August 13
Prime Minister Manmohan Singh today assured Parliament that there was nothing in the 123 agreement that compromised India's strategic programme or diluted the indigenous three-stage nuclear programme or put a cap on the country's right to undertake future nuclear tests.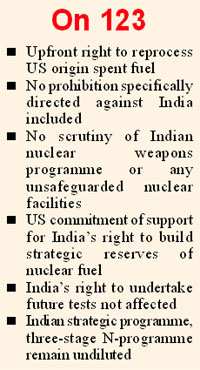 He also assured Parliament that India had secured right to reprocess US-origin spent fuel and remarked that an incident like Tarapur would not happen again.
He also said: "It is important to note that no prohibition that is specifically directed against India has been included in the agreement."
In his suo motu statement on Indo-US nuclear deal, which was inaudible in both Houses due to Opposition pandemonium, Manmohan Singh assured that his government had negotiated this agreement as an equal partner and had displayed "an unprecedented measure of transparency" even in the midst of complex negotiations.
"In concluding this agreement, we have ensured that the autonomy of our strategic programme is fully maintained and that Dr Homi Bhabha's long-term vision remains our guiding principle," he said.
The Prime Minister maintained that all commitments he made in Parliament on numerous occasions had been fully adhered to.
India will establish a new national reprocessing facility dedicated to reprocessing foreign nuclear material under IAEA safeguards. India and the US will mutually agree on arrangements and procedures under which such reprocessing will take place in the new facility.
Consultations on arrangements and procedures will begin within six months of a request by either party and will be concluded within one year, the Prime Minister said and added that there was no ambiguity with regard to the commitments of both countries.
The US has a longstanding policy of not supplying enrichment reprocessing and heavy water production facilities to any country. This agreement provides for such transfers to India only through an amendment. Forward-looking language has been included for dual use transfers of enrichment, reprocessing and heavy water production facilities.
India hopes transfers will become possible as cooperation develops and expands in the future, he said.
He talked about "full reciprocity" and made it clear that the agreement would come effect into only when all international restrictions on nuclear trade with India have been lifted. India will not take any irreversible steps with the IAEA prior to this.
Some other assurances given by the Prime Minister are as follows:
We have not consented to any provision that mandates scrutiny of our nuclear weapons programme or any unsafeguarded nuclear facilities.
This agreement does not affect India's unsafeguarded nuclear facilities and that it will not affect Indian right to use materials, equipment, information or technology acquired or developed independently.
Nothing in the agreement will impinge on India's strategic programme, Indian three-stage nuclear power programme or the country's ability to conduct advanced R&D.
An important assurance given by the US is the commitment of support for India's right to build up strategic reserves of nuclear fuel to meet the lifetime requirements of India's reactors.
The deal has endorsed the right of India to take corrective measures to ensure uninterrupted operation of its civilian nuclear reactors in the event of disruption of foreign fuel supply. "These provisions will ensure that there is no repeat of our unfortunate experience with Tarapur."
The agreement does not in any way impact on India's ability to produce and utilise fissile material for its current and future strategic needs.
The agreement also provides for non-hindrance and non-interference in Indian activities involving use of nuclear material, non-nuclear material, equipment, components, information or technology and military nuclear facilities produced, acquired or developed independently.
Both parties have agreed to take a number of factors into account in their consultations so that the scope for precipitate or unilateral action is reduced. India's right to take "corrective measures" will be maintained even after the termination of the agreement.
The Prime Minister explained in detail what happens in case of termination of this agreement. In such an eventuality, each party has the right to seek the return of nuclear material and equipment supplied by it to the other.
However, before the right of return is exercised, the agreement commits the parties to consult and take into account specific factors such as national security, ongoing contracts and projects, compensation at market value, physical protection and environmental issues.
India and the US have agreed to consider carefully the circumstances that may lead to termination, including a party's concerns about a change in the security environment or a response to similar actions by other states that could impact on national security.
Among the significant and innovative features of this agreement are specific mention of the right to run foreign supplied reactors 'without interruption' and take 'corrective measures' in the event of fuel supply disruption.
"The agreement does not in any way affect India's right to undertake future nuclear tests, if it is necessary in national interest. Let me hence reiterate once again that a decision to undertake a future nuclear test would be our sovereign decision, one that rests solely with the government. There is nothing in the agreement that would tie the hands of a future government or legally constrain its options to protect India's security and defence needs.... This agreement does not in any way inhibit, restrict or curtail our strategic autonomy or capabilities. Our rights to pursue our three-stage nuclear power programme remain undiluted," the Prime Minister assured.

Faces Opposition boos, CPM walkout
Tribune News Service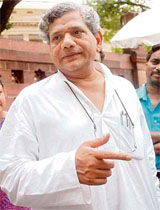 CPM Rajya Sabha MP Sitaram Yechury talks to mediapersons after Prime Minister Manmohan Singh's statement on the nuclear-deal issue, in New Delhi on Monday. — Tribune photo by Mukesh Aggarwal
New Delhi, August 13
In an unprecedented development, the Opposition did not allow Prime Minister to speak in either House of Parliament.
Prime Minister Manmohan Singh read out his suo motu statement in the Lok Sabha this afternoon on civil nuclear energy cooperation agreement with the US, but back-benchers from the Samajwadi Party and the Bharatiya Janata Party (BJP) made sure that not a word of what he said was audible.
The SP members snatched the lead from the BJP in opposing the 123 agreement, as they trooped into the well of the House, triggering off a similar reaction from the BJP members.
Speaker Somnath Chatterjee's admonitions did precious little in restoring order but the Prime Minister went on reading out the eight-page text amid occasional thumping of the desk and clappings from the treasury benches.
Chatterjee's stinging remark - "You are finishing Parliament. You have no right to be here" - went unheeded by the slogan shouters.
The Prime Minister went ahead with suo motu statement and around 20 Opposition members in the well of the House drowned his voice with their anti-US, anti-deal slogans.
Manmohan Singh sat down after half an hour, but only when he had finished reading out his statement.
Some 100 minutes later, the Prime Minister went to the Rajya Sabha to read out his suo motu statement on the agreement.
The Elders gave him tougher time and the Prime Minister stopped speaking after reading a couple of paragraphs amid din and then simply tabled the statement in the House.
This is the first time in the history that the Prime Minister has not been allowed to speak in Parliament and that too for as long as half an hour.
The Left parties, which engaged in an eyeball-to-eyeball confrontation with the government on the nuclear deal, gave a breather to the government when they staged a walkout from both Houses during the Prime Minister's statement.
The walkout was a clear indication that the Left would not withdraw its support from the government - at least on the nuclear deal issue.
The Left will discuss their strategy this weekend. The CPM politburo will meet here on August 17 and 18.
A debate in Parliament on the 123 agreement, which was due for this week, has now been postponed for next week. Political observers feel that the Left cannot afford to withdraw support on such an "obscure" issue as 123 agreement and should do this only when the government were to take an anti-people step - like increasing petrol/diesel prices - in the future.