Creditable Choice
Usha Albuquerque
Banking is probably the oldest job in the world. Banks manage money and wealth. Their activities facilitate basic economic processes of production, distribution and consumption. They take care of people's savings; issue travellers' cheques; finance projects; act as executors and trustees; and extend loan and credit services. Besides, banks promote entrepreneurship and self-employment. Banking is, therefore, considered the most important segment responsible for the growth of any economy.



Careercature
Sandeep Joshi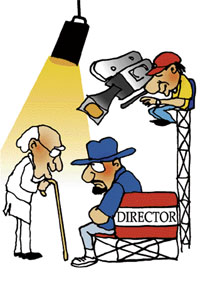 I am giving coaching to Pelota Vasco players. Can you make a film to highlight a career in this game?

Law of change
The Brits have come a long way from being the law-makers in colonial India to students of the judicial system in free India.
Sixty years after the Britishers had left, India is now witnessing a different and welcome kind of influx from the UK, with British law students thronging for internship opportunities here. Students from globally acclaimed law institutions such as the London School of Economics, Queen's Marry College and Cambridge Law Faculty are making a beeline to gain first-hand experience in India.



Now, job-seekers and head-hunters log on to Orkut, Facebook
Orkut, Linkin, Facebook and other similar popular social networking sites are fast doubling up as the modern-day employment exchanges with job seekers as well as companies and recruiters head-hunting for talent. The social networking sites, immensely popular with the netizens, especially the young, are having an increasing number of 'communities' helping both job seekers and employers.



CEOs as referees
In modern corporate functioning, most CEOs have assumed the role of referees to conflicts at senior levels, and putting together a united team for positive changes and innovation, says a study. Almost 80 per cent of the CEOs or functional heads today end up resolving conflicts between heads of marketing, sales, finance and customer care teams at senior-level management meetings and inspiring the senior managers for taking the company forward, says a survey by human resources firm Training Alternatives.



Indian Inc salaries to rise by 17 pc
The salary doled out by India Inc could increase by average 17 per cent in the current year, says a new survey. "The average salary increase in 2006 was 14-16 percent, and the report suggests it could be as high as 17 percent in 2007," says S.V.B Global, the international arm of financial services company SVB Financial Group in its study "Compensation and Benefits Industry Survey, 2007".



Australian college beckons pilots
With the Indian aviation industry opening more vistas for qualified pilots, Melbourne-based Australian National Airline College (ANAC) is beckoning Indian students to join its pilot training programme.



Bits & bytes
Supply chain experts' meet
Supply chain professionals will gather in Chandigarh later this year to discuss how to keep pace with India's rapid industrial growth that requires greater efficiency in movement of materials and services.



Career Hotline
Nurse foreign dreams
Pervin Malhotra
Q I am a qualified nurse working in a private hospital in my small town for the last four years. I am hard working and good at my job and would like to go to the US to improve my prospects, but don't know how to proceed. Please help.