Thursday, August 16, 2007, Chandigarh, India
Updated at 3:00 am (IST)

Big I-Day deal for farmers
New Delhi, August 15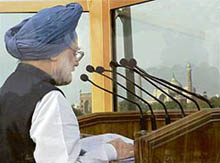 In a move to usher in inclusive economic growth, Prime Minister Manmohan Singh today announced that the government would increase farm spending by Rs 25,000 crore to enhance the livelihood of farmers and increase food production.

Nation page: Slew of sops for 'aam aadmi'


Editorial: Freedom from poverty
Probe Ordered
UP police taped in fake encounter
Lucknow, August 15
Responding to a news channel's telecast of live footage of a "fake encounter" in the posh Civil Lines area of Allahabad last year, Uttar Pradesh Chief Minister Mayawati today ordered a CB-CID probe to bring the guilty policemen to book.
Identity of 28 missing established
Ghanvi: 5 bodies recovered
Ghanvi (Rampur), August 15
After toiling hard for all day today, rescue workers could extricate only five bodies from the mountain of debris brought down by the cloudburst which buried the sleepy village of Bhavi, near Ghanvi.

Editorial: Himachal calamity