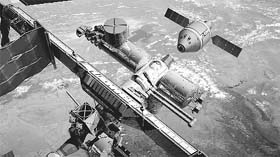 Imagine waking up in the morning and looking out of window, you see this beautiful view of the earth from space. To live in space will be a reality in the near future.
For years, scientists and astronauts have dreamed of having a permanent space station in orbit around earth. For some, it is for cutting edge scientific research in an environment unmatched on earth and for others; it is for business, where unique materials such as crystals, semiconductors, and pharmaceuticals can be manufactured in better forms than on earth. Still a few others have dreamed of space stations as tourist attractions, and colonies that could relieve population pressure on planet. Whatever be the dream, space stations are not that far off.
The United States and Russia have had orbiting space stations since 1971 and are now cooperating with other nations to build the International Space Station (ISS), a place that will maintain a permanent human presence in space.
The ISS orbits around the Earth at an altitude of 360km. The construction of this beneficial satellite was a joint effort of NASA and 15 countries. It was launched on Nov. 20, 1998 to begin its first 92-minute trip around the earth. With dimensions 88m x109 m x44 m and occupying a volume of 1300 m3; it has a living space of about the cabin size of two 747 jets. It has gigantic mass of 454 metric tons.
One-hundred sixty space walks, totaling 1,920 man-hours, will be required to assemble and maintain the ISS, which is scheduled for completion in 2010 and will have an anticipated life of 10 years at a projected total cost of $35 to $37 billion. When completed, the ISS will be able to house up to seven astronauts. Since Nov. 2,2000, there have always been at least two people on board.
To sustain life in space, the ISS must be able to provide the following things:
Life Support: At earth, we have a constant supply of fresh air and take things for granted. Plants recycle the carbon dioxide that we exhale. We have a large supply of fresh water from rivers, lakes and streams. We are warmed by heaters or the sun and cooled by airconditioning. We have fire protection from local fire stations. All of these things must be designed into the ISS.
To achieve this, oxygen and nitrogen will have to be supplied. The Russian Elektron generator will make oxygen by splitting water into hydrogen and oxygen (electrolysis). Solid fuel oxygen generators or oxygen candles will be burned to make additional oxygen, if required. The space shuttle will bring nitrogen from earth, and store it in external tanks on the station. The pressure control assembly will mix the nitrogen and oxygen in the right percentages, monitor the atmospheric pressure and depressurise the station when necessary .
A special material will absorb carbon dioxide and release it into outer space. The trace contaminant control system will filter cabin air to remove trace odors and volatile chemicals from leaks, spills and outgassing.
Water recycling: After air, water is the most important element aboard the ISS. Initially, it will be brought from earth. On the ISS, water will be highly conserved. There will be no long, luxurious showers. In fact, most astronauts will have sponge baths. The water recovery and management subsystem will collect, recycle and distribute water from various sources, including sink, shower, urine from the astronauts and from laboratory animals onboard, spacesuit wastewater, heating and cooling systems, cabin air - moisture exhaled by astronauts and laboratory animals and the space shuttle's fuel cells
Temperature control: It is an extremely cold environment in outer space. Therefore, heating of the ISS would be needed. However, the electronic equipment generates more than enough heat for the station. The problem is getting rid of the excess heat. So the temperature control system has to carry out two major functions — distributing heat where it is needed on the station and getting rid of the excess. To do this, liquid ammonia will be used in a pipe to transfer heat from a warm area to a cold area over short distances. The ammonia evaporates at the warm end of the pipe, travels to the cold end and condenses, giving up heat; then the liquid travels back to the warm end along the walls of the pipe (capillary action).
Food supply: The space shuttle and Progress supply ships will bring food to the ISS. Food will be supplied from earth by space shuttle and comes in several forms (dehydrated, low moisture, heat-stabilised, irradiated, natural, fresh). The ISS has a kitchen equipped with food storage compartments, food warmers and a food preparation area. The dining table will have restraints so the astronauts do not float away and metal trays will be provided to stop the food packages and utensils from floating away.
Waste removal:The floating dirt and debris could pose a hazard in space. Wastes are made from cleaning, eating, work and personal hygiene. For general housecleaning, astronauts will use various wipes (wet, dry, fabric, detergent, disinfectant), detergents and wet/dry vacuum cleaners to clean surfaces, filters and themselves. Trash will be collected in bags, stowed in a Progress supply ship and returned to earth for disposal. Solid waste from the toilet is compacted, dried and stored in bags, where it is returned to earth for disposal (burning).
Fire protection: In case a fire broke out, there must be a system to detect and suppress it. The ISS has to be fitted with area smoke detectors in each module, smoke detectors in each rack of electrical equipment, alarms and warning lights in each module and nontoxic portable fire extinguishers and personal breathing apparatus - mask and oxygen bottle for each crewmember. After a fire is extinguished, the atmosphere control system will filter the air to remove particulates and toxic substances.
Propulsion: At the altitude of 360 km, the earth's atmosphere is extremely thin, but still thick enough to drag on the ISS and slow it down. With slowing down, it loses altitude. In addition to atmospheric drag, solar flares also slow the station down and cause it to lose altitude. So the ISS will need to be boosted periodically to maintain its proper altitude. In the early stages, rocket engines in the command and service modules can be used to boost the ISS. However, the Progress supply ships will do most of the reboosting. Each reboosting event requires two rocket engine burns. During the burns, work on the ISS will be suspended. After the burns, station life will return to normal.
The ISS must be able to know precisely its path in space and position of other objects and how to go from one point in space to another, especially during reboosting. To know where it is and how fast it is moving, the ISS uses global positioning systems (GPS), which will help it move from one point to another in space.
All of the onboard systems of the ISS will need electrical power. It will be provided by eight large solar arrays, each 33 m long and covers an area of about one acre. On each array, there are two blankets of solar cells. Each blanket is on one side of a telescoping mast that can extend and retract to fold or form the array. The mast turns on a gimbal, so that solar cells always face the sunlight.
These arrays will generate primary power — approximately 160 volts of DC electricity, which will be converted by a secondary transformer to provide a regulated 124-volt DC current to be used by the station's equipment. The primary power will also be used to charge the ISS's three nickel-hydrogen battery stations, which will provide power when the ISS passes through the Earth's shadow in each orbit. By the time the ISS is completed, there will be more than 100 computers aboard, used for operations of the ISS, interface with the crew, caution and warning systems, data acquisition and processing from experiments The computers will be networked together to coordinate activities and functions.
Emergency escape: If crew -members get serious injury or fall ill, they will need to get back to earth as soon as possible. The whole crew of the space station might have to evacuate in the case of a serious fire, or some other life-threatening damage to the station. So an escape route is must for evacuating the crewmembers. Soyuz capsule will always be docked at the ISS for this purpose. NASA is designing and building a crew-return vehicle (CRV), called the X-38, for emergency use. The X-38 will be capable of transporting seven people to the surface.
Future: It is just the beginning of the development of space stations. We are still a long way from the realisation of large space stations or colonies in space for two reasons.
(i) We want a place without gravity so that we can study the effects of gravity.
(ii) We lack the technology to practically rotate a large structure, like a space station, to produce artificial gravity.
In the future, artificial gravity will be a requirement for space colonies with large populations.
There is another popular idea for a space station. There are two places between the Earth and moon called Lagrange Points L-4 and L-5. At these points, the Earth's gravity and the moon's gravity are counter-balanced so that an object placed there would remain suspended.
The orbit would be stable and require no boosting. Our experiences on the ISS, would pave the way for building larger and better space stations that would enable us to live and work in space, and the dreams may become reality.
The writer is Associate Professor (Physics), HAU, Hisar