ART 'N' SOUL
Private passions, public legacy
Paul Mellon rekindled an interest in British art by his passionate collecting, writes B. N. Goswamy
"I have been an amateur in every phase of my life; an amateur poet, an amateur scholar, an amateur horseman, an amateur farmer, an amateur soldier, an amateur connoisseur of art, an amateur publisher, and an amateur museum executive. The root of the word 'amateur' is the Latin word for love, and I can honestly say that I've thoroughly enjoyed all the roles that I have played."
Paul Mellon (1907-1999)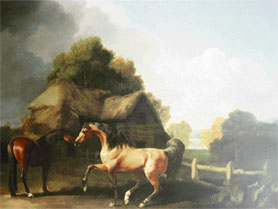 Stallion and Mare by George Stubbs, 1760
Like in most other things, Paul Mellon — remembered by many as the greatest philanthropist of his time — was right here. The word amateur does come from the Latin word amare, 'to love', and he loved all the things he listed in this charming passage from his autobiography, Reflections in a Silver Spoon. But the two things he truly seems to have loved above all others were horses and British art. Perhaps strictly in that order.
Money was no problem for Paul Mellon, ever. Son and heir to one of the richest men in America — Andrew Mellon: industrialist and financier, who had held high official positions, having served both as Secretary of the Treasury to the US Government and America's ambassador to England — Paul did not share his father's interest in business. His interests lay elsewhere, as he himself kept stating repeatedly: in art, in rare books, in building institutions, and above all, in horses.
His father was also fond of art: collecting, and then giving the things he had collected away to museums like the National Gallery of Art in Washington. But Paul went well beyond him in both respects. He is remembered fondly for many things, but for none more than what he did in terms of directing the interests of everyone, including Englishmen themselves, to British art.
In general, that art, exceptions apart, had come, by the middle of the 19th century, to be held in relatively poor esteem. It was Paul Mellon who re-kindled an interest in it by his passionate collecting. The story has often been told, at least in art circles.
Paul's collecting of British art stemmed from a meeting at Claridge's Hotel in London with Basil Taylor, respected art historian, and expert in the field, in 1960. Both men, it turned out, thought alike, believing that British art was "neglected and undervalued and that somebody ought to do something about it."
Over coffee, it was decided in a quite informal way that Paul would be the collector and Basil would act as his unpaid adviser. At that time Paul Mellon was 53 years of age. He had already acquired a major collection of colour-plate books illustrative of scenery, life, and travel in England and the continent, and built up a collection of books illustrated by William Blake as well as a sporting library. But he had only bought a handful of English paintings to date. As was written later by a friend about the meeting between Paul Mellon and Basil Taylor: "I doubt whether either man seated drinking his coffee in the hotel foresaw the full implications of what would follow upon this meeting."
Over the next few years, Paul collected British art, like a man possessed. As a friend of his noted: "Pictures were arriving (at his Virginia home) by the boat-load and sometimes by plane-load because civil cargo jet aircraft were just coming into service."
With an Englishwoman for his mother, Paul had always been an Anglophile. He went to Cambridge to study, of course, but his love of England went back much further. As he wrote somewhere, "From 1907 until 1914, from my first year to my seventh, my parents spent almost every summer in England, and my sister and I were invariably taken with them. I suppose it was in those summers that I first developed a taste for the English countryside, for English houses, English rivers, English parks, English skies, English clouds." And, when he grew up, for English art, one might add.
Great English artists of the past like Turner and Constable and Blake apart, it was towards the work of the 18th century painter, George Stubbs, that he was especially drawn. Stubbs was known for his remarkable studies of horses, and for Paul Mellon to own a Stubbs was to bring his two great loves together: horses and art.
In his collection as it kept growing were as many as 40 paintings by Stubbs, including the first one by him that he had ever bought: "Pumpkin with a Stable Lad", Pumpkin being the name of the horse, of course.
His holdings of British works apart, Paul Mellon's had slowly turned into a major, and highly talked-about collector of art. What casts a warm glow over his activities, all his passions, however, is what he did with his collection and his money.
When he died 10 yeas ago, there were tributes from friends and admirers, museum directors and fellow-collectors, men in the highest of places. And nearly everyone recalled how Paul used to speak about giving away his wealth and collection. He wanted to do it "just right", he used often to say. And he did. Yale, the great university that was his alma mater, received the largest share of it. To the Yale Center for British Art, Paul Mellon was careful about his own name not being used in the title of that fine institution — he left nearly 2,000 paintings, 50,000 prints and drawings, 35,000 rare books and manuscripts, and hundreds of sculptures.
Buildings designed by some of the finest architects of the times — Eero Saarinen, Louis Kahn, among them — came up on the campus, all funded by Mellon money. An endowment was created for the advancement of studies in art that is 'rumored to be more generous than that of any US art institution except the Getty'.
To Cambridge, where he had studied for some time, went $20 million; to the Virginia Museum of Fine Arts, again, a sizeable part of his collection and funds to manage it. Paul Mellon, as has been finely said, gave "on an almost heroic scale."
A quick footnote at the end. The Mellons also founded the famous Bollingen Foundation, 'for the advancement and preservation of learning in the humanities'. To the Bollingen series of publications belong some of the most influential works in the area of Indian art and mythology, including Heinrich Zimmer's celebrated Art of Indian Asia.