From babu's perspective
Nirmal Sandhu
The Politics of Change
by N.K. Singh. Penguin/Viking and the Indian Express group. Pages 254. Rs 395.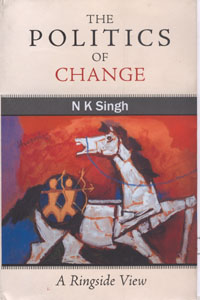 A compilation of newspaper articles in book form usually runs the risk of emitting a stale smell. When the author is an IAS officer, there is an added risk of the writing being polite and dull under systemic constraints. However, N.K. Singh's book is both fresh and daring.
IAS officers tend to play safe, use guarded language and say things that their superiors like to listen. NK is forthright and speaks what he believes in regardless of whether he refers to the Prime Minister, the Finance Minister or fellow civil servants.
Here is a sample: "Civil servants have rarely been penalised for delayed decisions and are never rewarded for accelerated action. Cautious and sometimes even tardy decisions that guarantee job security and career progression are the preferred option."
Experienced officers often advise their juniors to beware of three Cs: CAG, CVC and CBI. For a bureaucrat caution is more important than development. Recognising difficulties of bringing private sector attitudes and procedures in the government, NK pleads for aggressive outsourcing and lateral induction of talent.
Being closely associated with the reform formulation and implementation process as Additional Secretary (Economic Affairs), Expenditure Secretary, Revenue Secretary, Secretary to the Prime Minister and a member of the Planning Commission between 1991 and 2004, he writes with the confidence of an insider and knowledge of a policymaker.
The book covers a wide range of subjects such as effects of globalisation, relations with China, migration, infrastructure, political dynamics, Centre-state relations and, of course, Bihar, where he is currently posted as the deputy chairman of the state planning board. Reform remains the recurrent theme of his essays.
Since disinvestment is politically inconvenient and currently out of fashion, NK favours improved governance and greater autonomy for public sector enterprises to enable them to compete with private firms. "Genuine autonomy," he observes, "could make many ministers jobless`85 The truth is that for several decades, public undertakings have been increasingly used by successive ministers to exercise power and patronage which the ministries themselves neither have nor can confer."
To lift agricultural growth and incomes, he suggests a focus on agro-processing activity. Forty per cent of fruits and vegetables go waste in the absence of processing facilities. In India only 7 per cent of food products are processed compared to 45 per cent in the Philippines and 23 per cent in China.
Though the Centre makes much of earmarking enhanced credit for agriculture, the fact is, as the writer points out, only Rs 2,000 crore is available for rural India against the requirement of Rs 45,000 crore.
Governance can improve significantly, if suggestions in the book are implemented. But simplifying decision-making is not that simple. NK quotes with approval a former minister's comment on the system: "No enemy of India could devise a system better designed to paralyse decision-making. Administration in India has degenerated into a system of endless correspondence and meetings as a substitute for action."