Back of the book
From Raj to Swaraj: The Non-Fiction Film in India
by B. D. Garga.
Penguin/Viking. Pages 214. Rs 695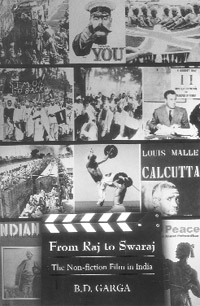 The screening of the six films of the Lumiere brothers at Watson's Hotel Bombay on July 7, 1896, marked the beginning of India's engagement with the moving picture. It also laid the foundation of a remarkable body of non-fiction cinematic work.B.D. Garga's From Raj to Swaraj:The Non-fiction Film in India traces the century-old history of newsreels and documentaries in the country. Beginning with an account of the early works of people like Hiralal Sen, J.F. Madan and Harishchandra Bhatwadekar, who pioneered the newsreel, Garga goes on to describe what were among the first non-fiction films—Jyotish Sarkar's coverage of the anti-Partition demonstration in Calcutta, 1905, and Charles Urban's spectacular film on the 1911 Delhi Durbar.
Garga also chronicles the landmark events in the development of non-fiction films in India: the propaganda films during World War I and II, the passing of the Cinematograph Act in 1918 and the establishment of the censor board, Lowell Thomas's journey across the country to film Romantic India, Louis de Rochemont's controversial coverage of police repression in 1930, the series of the "March of time" films on India, the founding of the Film Advisory Board and the pioneering efforts of the Information Films of India, and the extraordinary coverage of communal riots during the Partition in 1947.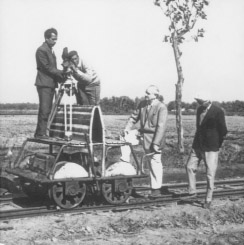 B.D. Garga filming his documentary Amrita Sher-Gil, Saraya, 1968. Also seen in the photograph is Amrita Sher-Gil's husband, Dr Victor Egan
Post-Independence, the author throws light on the role of the Films Division and on the work of Mohan Bhavnani, Jean Bhownagary and Paul Zils who created a sound base for future film-makers. He also looks at the powerful body of works by women directors like Suhasini Mulay, Deepa Dhanraj and Sumitra Bhave, among others, which courageously addresses a number of contentious social and political issues. Critically examining the factors that have stunted the development of documentaries in the country, Garga lauds the efforts of film-makers like Anand Patwardhan to keep the movement going in the face of myriad distribution, logistical and financial hurdles. A groud-breaking study by one of India's most respected film historians, From Raj to Swaraj not only explodes many existing myths but also reveals astonishing new details about a genre of films that has been overshadowed by the razzmatazz surrounding its more glamorous counterpart, the masala fiction film.
Bhagwan Das Garga is one of India's eminent film scholars and a founder member of the National Film Archive, Pune.