Food talk
A cut above the rest
Cutlet, originally a western delicacy, now comes in desi versions too, says Pushpesh Pant
Cutlet, as everyone — or almost everyone — knows at one time meant a specific cut of meat. Once the British brought it to the Indies, it underwent a dramatic transformation. Today, the shallow fried 'Western' delicacy is synonymous with a vegetarian 'option' for breakfast or a light meal — the body is provided by mashed boiled potatoes and the crunch and colour is contributed by bits of carrots and beans. Spicing is seldom more than garam masala coupled with finely chopped green chillies and onions. Draped in breadcrumbs these are usually devoured with slices of bread or toast with large spoonfuls of tomato sauce.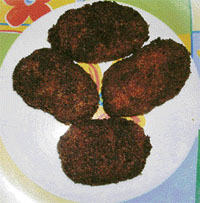 Of course, there are mutton and chicken cutlets too that make a ceremonial appearance at Continental khana in military messes and public school hostels but to be honest they are akin to endangered species of flora and fauna.
With the decline of Dak bungalows and demise of railway dinning cars, it is rarely that one encounters the non-vegetarian cutlet. The chop has proved to be more enduring. By now our beloved readers must have caught on to our weakness for the non-veg cutlet and can easily imagine our glee when we were treated, quite unexpectedly, to a macchi cutlet by our generous neighbour Ranjita recently. An Oriya by birth, she has an exceptional penchant for fish and unlike the more tradition-bound Bengali friends is not reluctant to experiment.
She shared with us the recipe that blends the seductions of a macchi ka shami, a mince filled alu chop and the cutlet. Not to forget the Thai fish cakes. The recipe is simplicity incarnate. Go ahead and revive the nostalgia or make a new friend.
Fish cutlets
Ingredients
Fish fillet (Surmai, Bekti,
Singhara or Sole) 500 gm
Potatoes (boiled, peeled
and mashed) 150 gm
Ginger (chopped into small dices) 1 tbsp
Green chillies (deseeded and
chopped fine) 2-3
Ajwain seeds ½ tsp
Red chilly powder ¼ tsp
Cumin powder ½ tsp
Coriander powder ½tsp
A large pinch of mixed dried herbs (powdered)
A large sprig of hara dhania chopped fine
A few Kaffir lime leaves (optional)
Salt to taste
Egg (beaten) one
Breadcrumbs ½ cup
Oil to shallow fry
Method
Boil or steam the fish for about five minutes on medium flame. Allow to cool and mash. Blend well with mashed potatoes and the powdered spices along with the salt. Sprinkle ajawain seeds and blend again to ensure even distribution. Divide in equal portions and shape into small balls then make a hollow and fill it up with chopped ginger and chillies, hara dhaniya and Kaffir leaves, if using. Roll once again into small balls and flatten to shape as cutlets. Dip one by one in beaten egg then roll in bread crumbs spread on a flat plate. Lay a thin film of oil on a non-stick frying pan and shallow fry or pan grill the cutlets. Enjoy with the good old ketchup or green chutney.