India at Sixty


Indian writing goes global
After Independence, it has been a rich and eventful journey, with many milestones, for Indian literature. Indian writing has a variety of textures and voices. Harsh Desai looks at some of the authors and their works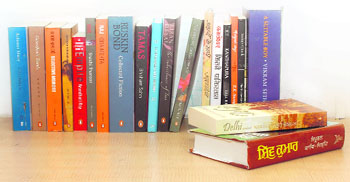 When Vikram Seth's Golden Gate appeared in the autumn of 1986 it broke the mould of Indian literature. Neither because it was a novel written in verse, (in sonnets actually in the style of Pushkin's Eugin Onegin) nor because it had been hailed as the Great Californian Novel by none other than Gore Vidal. The reason it broke the mould was because it went virtually where no other Indian author had gone before. It had no Indian protagonists. (Even the pet Iguana was named Arnold Schwarzzneggar and not Dara Singh). It was not based in India. It did not even have a reference to India and in every sense was a foreign novel. For many of us this was a truly new experience. We asked ourselves who is this Vikram Seth?
Was it the coming of age of Indian literature in English? Of course, Vikram soon reverted to form by writing A Suitable Boy. A very Indian book about Indians in India actually doing a very Indian thing — getting into an arranged marriage.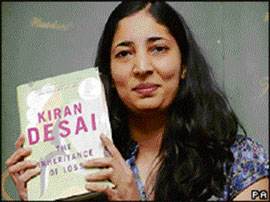 Kiran Desai's Inheritance of Loss turned out to be a case of daughter trumping mother (Anita Desai) for the coveted Booker. The story shifts seamlessly between Kalimpong and New York
Arundhati Roy's God of Small Things came out of nowhere. It was reported that the agent had been so dazzled by the manuscript that he had dropped everything and flown down from London to India to meet the author. The book dazzled us with its quick-silver prose. Almost semi-autographical, it was based in the backwaters of Cochin. The prose seemed to have imbibed the beauty of the backwaters. Not unexpectedly, it won the Booker prize. Arundhati, unfortunately for lovers of fiction, soon shifted to non-fiction.
Amitav Ghosh's The Calcutta Chromosome is a story which spans time and space. It could be regarded as science fiction and it essentially springs out of the discovery of a cure for malaria in Calcutta in 1896 by Ronald Ross. But Amitav in this book conjures up magic out of this simple story and pulls out one rabbit after another from a metaphorical hat.
Kiran Desai's Inheritance of Loss turned out to be a case of daughter trumping mother (Anita Desai) for the coveted Booker. Shifting seamlessly between Kalimpong to New York and back, the story tells us that in a very real sense we are all refugees particularly when the centre does not hold. Much before this new wave of English Literature we had some very good Indian writing in English.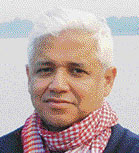 Amitav Ghosh: Master of the layered narrative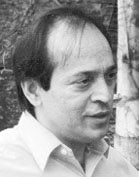 Vikram Seth: Breaking new barriers

Arundhati Roy: Writer as activist
More than 50 years ago, Khushwant Singh wrote A Train to Pakistan, a searing story from the days of Partition of a village, Mano Majra, precariously situated in the Punjab a few kilometers from the Pakistan border. It's the story of how the village turns on upon itself. It's a story of love and hate. Revisiting the book, one is surprised by the clear crystalline prose and the soft almost hushed tone which only exacerbates the tragedy.
Raja Rao's Sahitya Akademi Award-winning novel, The Serpent and the Rope tells the story of the marriage of Rama, a Brahmin boy and Madeline, a French woman. The story spans all the way from Banaras to Aix-en-province and deals with Rama's deep Brahminical sensibilities and Madeline's delicate French sensibilities. And what happens when they meet.
R.K. Narayan's Malgudi stories enact a world of simplicity, joy and innocence in the fictionalised town of Malgudi. The clarity of style and the gentle humour make the books special.
G.V. Desai's All About H Hatterr created a stir when it was published in 1970. It's the comic autobiography of a young Anglo-Indian's quest for enlightenment and a gentle ribbing of the Mother country.
Towering figure
Gandhian ideology had a huge impact on Gujarati literature soon after Independence as is reflected in the books of authors such as G.V. Desai's Divya Chakshu (Celestial Eye) Bharelo Agni (Hidden Fire) which relates Mangal Pande's story and Gram Lakshmi (Village Wealth) which is a take on rural culture.
A towering figure in the early years after Independence was Jharerchand Meghani whose Saurashtra ni Rasadhar (The essence of Saurashtra) told stories often of bravery and gumption. Meghani wrote novels, short stories and poems and helped compile folk literature into book form and brought it into the mainstream. One of his most famous poems was Charan kanya (the Charan girl) which is a tale of bravery of a young girl taking on a lion and besting him. The sheer rhythm of the poem is addictive.
Kanailal Munshi, the lawyer politician wrote historical novels such as Gujarat no Nath and Jai Somnath mining Gujarat's history and turning it into fiction. Harkishan Mehta's three books about dacoits in the Chambal, Chambal taro Ajampo are worth a mention. They are thrilling stories of the life and times of dacoits in Chambal such as Mansingh and Daku rani Putli and Rupa which can make your hair stand on end. They are adventure stories in the best tradition with larger than life dacoits and some may say they romanticise dacoits.
Today Gunvant Shah the author of the Ran to lila Chum with his thought-provoking writing which is dead serious and has no room for levity is making a serious attempt to make Gujarati readers familiar with world literature.
Focus on displaced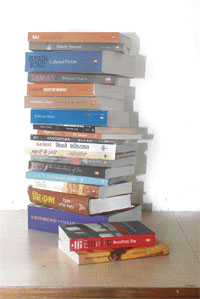 Mahashweta Devi towers over Bengali literature like a colossus. She shines a mirror on us and our society and what we see of ourselves we can not but dislike. She gives voice to the displaced, the downtrodden and the disinherited. She is incredibly versatile and inventive. She has given new legs even to an epic like the Mahabharata. For instance, the Panchakanya (five girls) from her collection, After Kurukshetra — the story of the widows of five foot solders who are consoling Uttara, the widow of Abhimanyu who is expecting a child. They say: "This is not our dharma yuddha. Brother kills brother, uncle kills nephew, shishya kills guru. It may be your idea of dharma. Its not ours". This is the freshest perspective of the Mahabharata that I have encountered. In her collection of stories, Bait, she has brought her pointed observations to the urban milieu and the Calcutta underworld in the 1960s and 1970s, which she exposes with telling effect.
Sometime when one reads Mahashweta one gets the feeling that she is trying to wake up a slumbering nation.
The Bengali writer Suchitra Bhattacharya author of the collection of short stories, I am Madhabi turns her attention to the Bengali middle class and chronicles their joys and sorrows. She is an acute observer of the changing milieu and deals with the "dilemmas of our ordinary lives". For instance, the story Attachment is a touching look at the confusion, commotion and comfort of relatives unexpectedly dropping in for an extended stay. Suchitra is also a great observer of the minutiae of modern urban life and while reading her you are apt to exclaim "Gosh, how come I didn't notice that ?"
Path-breaker
Vaikom Muhammad Basheer, the 'Beypore Satan' has been a path- breaker in Malayalam literature. He was the first writer to challenge the literary convention of writing in sanskritised Malayalam. Many years ago, he was also the first Malayali writer to demand adequate remuneration for writers and actually wrote a play bemoaning the fact that writers were so ill-paid. His stories span the gamut all the way from light stories with a twist-in-the-tail in the style of O' Henry to more serious stories where you can feel the closeness of his experience as a jailbird during Independence.
Such, for example, is the story Wall about life in a jail. The time spent by Basheer in jail has been utilised by him in his creative work. Similarly, he travelled through India extensively and transformed the experiences of these journeys into literature. His wife Fatima Bi interestingly says that she was surprised by Basheer's long conversations with himself till she found Basheer was relating whole stories to himself before he penned
them down.
Kamala Das writes both in Malayalam and English. Her memoir A childhood in Malabar written in Malayalam has all the scents and sounds of Kerala. Growing up in the 1930s and 1940s and dividing time between Calcutta and Malabar the book describes the magical childhood of Kamala who was a precocious child. Surrounded by loving relatives but taken care of by loving servants, the story is a procession of delights — magicians, dancers, yakshas, gandharvas and the like all make their way. You watch in amazement as her relatives give away a doll to a visiting child, leaving Kamala in tears. How she struggles to persuade her father to get her a red silk frock or as she struggles with the concepts of marriage and death as an eight-year-old.
The way ahead
What is the way ahead for Indian Literature? With million-dollar advances still infrequent but not unheard of, in some ways Indian writing (particularly in English) it would seem has never had it better. However, the reading public in India is still miniscule and not long ago a publisher told me that selling 5000 copies of a book amounts to a best seller. It is hoped that this will change by both better literature and a more consistent effort at marketing books. Further there is a lot of superb literature in the vernacular. A serious effort to the translate the same should be made. Publications such as Katha, of course, go a long way in bringing new readers to the Indian languages.