ĎJhansi ki Rani is close to my heartí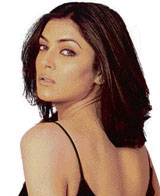 The 31-year-old svelte actress, who has acted in around 30 films, is currently occupied with Dulha Mil Gaya with Shah Rukh Khan and Ram Gopal Varmaís Aag.
Dulha Mil Gaya is Sushmitaís second film with Shah Rukh and she says it will show the world her real self.
"It is a complete entertainer from frame one to the end. We have really worked hard for it. I can assure you that you will laugh your lungs out," she said. "But the best part is the character I play in the film is essentially Sushmita." However, the actress is more excited about her own production Jhansi Ki Rani and said the project is close to her heart.
"It is a life story of a woman who made all impossibilities come alive," she said. "I feel that I know her and a film on her life is so relevant today as centuries later we are now facing issues on religion that are creating cultural barriers whereas Raniís greatest allies were Muslim Pathans." The research for the filmís content is over and now they are working on the characterisation, she said.
"A terrain in China has been chosen for the entire cast to be trained. The production of the film is scheduled to start by the end of next year and will see its release in 2009.
"I feel with time we have forgotten Rani Jhansi and what she stood for. The film is not about glorifying a religion. It is about glorifying humanity and celebrating that. It is sad that history has not recorded most of her life."
"History has somewhere forgotten her. One will get goosepimples after knowing what all she did and, remember, she died when she was just 28."
Often regarded as a style diva, Sushmita also said she became the producer of the film to have control over the execution of its content.
"I have spent a lot of time complaining in the industry that this should have been like this and this is not right. So Iím producing this film because I donít want to take any chances with it," she said. "Moreover, I feel that by being the producer, I will have control over the film and how it
is made."
ó IANS