500 & still going strong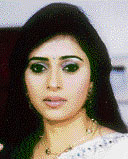 Reena Kapoor, aka Pari of Woh Rehne Wali Mehlon Ki (on Sahara One), which has completed 500 episodes, says she's looking forward to the 1000th episode now. "It has been a tough journey, TRPs going up and down. But we have emerged a winner."
Admitting that she's quite close to everyone on the sets of the family sitcom, she asserts the journey has been very memorable and has left a mark on her. "The time when the whole cast was changing, known faces were replaced, I felt quite alone. But Kavita Barjatya was there for me as a friend, a support and helped me cope with the changes. Every moment associated with Woh Rehne`85 has been memorable. Essaying this role has brought me closer to many people — not only within my team but also my fans across several cities."
Does she have any plans of joining films? The actor says, "At the moment, no. But, I believe that when there is a calling, it will happen. For the present, besides acting, I loves travelling and reading." Her advice to upcoming artistes is: Don't give up. Have complete faith in God and yourself. Patience and persistence pays. — D.P.