Mother of stereotypes
The hapless mother coughing away at the sewing wheel has given way to the young and hip mom, says M.L. Dhawan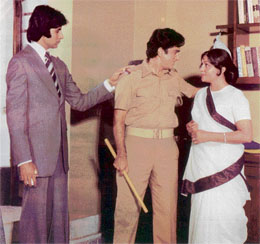 Nirupa Roy in Deewar with Amitabh Bachchan and Shashi Kapoor.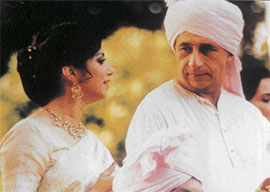 In Monsoon Wedding, Lillete Dubey is projected as an ultra-modern mother.
The maa in Hindi films is a woman whose life never runs smooth. The mother toils hard, bending over the sewing wheel and scrubbing dirty utensils to bring up her children. Of the different roles the one that an actress in every generation longed for was the role of mother that Nargis played in Mehboob Khan's Mother India (1957).
Nargis brought alive the agony of an impoverished mother. She glorified the strength of a mother in a monologue to goddess Lakshmi, saying Maa bankar dekho, tumhare paon bhi dagmaga jayenge`85When her favourite son Birju kidnaps a young girl, she overpowers her emotions and shoots him.
Rambhiben (Shabana Azmi) in Vinay Shukla's Godmother picks up a gun when her son proves to be her undoing but refuses to give her son a long rope.
In Mahesh Manjreker's Vaastav, Radhu (Sanjay Dutt) gets caught in a conscience crisis. Guilt engulfs him and the only way he can escape the torture is when his mother Shanta (Reema) shoots him and liberates him.
Meena Kumari in Gulzar's Mere Apne presented the image of traditional motherhood. The goodness of a mother figure made her an oasis of peace in the midst of the city torn apart by gang warfare. When everything fails to cure the unruly hoodlums (Vinod Khanna, Shatrughan Sinha etc) of their over-riding lust to kill and loot, the mother figure brings them to order and ethics.
Nirupa Roy in Deewar loved her elder son Vijay (Amitabh Bachchan) but condemned his aberrations and walked out on him when his dishonest means of living are out in the open. He died with his head on his mother's lap. Mere paas maa hair reinforces that without a mother, the son is a lost soul.
For Sujata Chatterjee (Jaya Bachchan) in Hazaar Chaurasi Ki Maa, everything falls apart with a call at midnight to come to the local police station to identify the mutilated body of her son Brati — the No. 1084. Her agonising questions reflect those of every mother.
The portrayal of the mother on screen has undergone a drastic transformation. The mother has slowly but surely shaken off her long suffering, white sari and chalky hair image. Maharani Jodhabai of Mughal-e-Azam had a lot in common with the mother of Shakti, Avtaar, Baghbaan where the mother is torn in conflict between the husband and her son(s) but her loyalty always rested with her spouse. Durga Khote, Rakhee, Shabana Azmi and Hema Malini found the character of mother drawing the best out of them.
The hapless mother coughing away at the sewing wheel seems to have faced extinction long back in Hindi movies. The hoary clich`E9s of Hindi films portraying mother on the screen have undergone a sea change.
The poor and luckless mother has now found other options to make both ends meet. The unwed mother (Shanti/Waheeda Rehmaan) of Trishul nurtured in her son Vijay (Amitabh Bachchan) the seeds of revenge that 20 years later flowered. Her lullaby Meri barbadi ke dushman agar abaad rahey/Main tujhe doodh na bakshoongee tujhey yaad rahey... hits his ears like a bullet. Vijay makes his illegitimate father J.K. Gupta (Sanjeev Kumar) to pay for deserting Shanti for his career. Kundan Shah's Kya Kehna was the story of a bold, unconventional unwed mother — who showed unusual courage in owning up her mistake and accepting the responsibility for it.
What apparently appealed to the masses was the choice exercised by a woman in rejecting a man whose child she bore out of wedlock, because she had lost respect for him. Instead she opts for the one who stood by her through thick and thin.
Thrown out of her matrimonial home by her husband in Kuch Khatti Kuch Meethi, Rati Agnihotri does not swallow the suicide pill but lives a comfortable life in London. She supports a trendy Western wardrobe. In Phir Bhi and Swati one saw single mother transgressing to fulfil their sexual desires. The mother of Hamare Tumhare admits her need for companion in her sunset years. Lillete Dubey in Monsoon Wedding throws decorum to the winds by puffing a cigarette in the loo with the knowledge of her amused husband to relieve her 'stress'. Modern movie moms are young, hip and sophisticated. Looking at Jaya Bachchan in Kal Ho Na Ho, Kirron Kher in Rang De Basanti and Revathi in Nishabd, the eminent helpless mother wipeout appears to be gradual but persistent.