PUNJAB

HARYANA

JAMMU & KASHMIR

HIMACHAL

REGIONAL BRIEFS

NATION

OPINIONS

MAILBAG

BUSINESS

SPORTS

WORLD
ADVERTISEMENT
Tuesday, August 21, 2007, Chandigarh, India
Updated at 3:00 am (IST)

PM pitches for N-energy, Left narrows govt options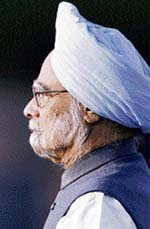 REDS say no to IAEA talks ALSO
New Delhi, August 20
As Prime Minister Manmohan Singh pitched for nuclear energy for the economic growth of the country, Left parties today narrowed the options before the government on the nuke deal by categorically stating that the UPA should not go ahead with the talks with International Atomic Energy Agency (IAEA) or they withdraw support.

Surely, he's thinking of the options left for him

Editorial: Save the deal
Pak vows nuclear tit for tat
Islamabad, August 20
Pakistan today hinted that it would review its unilateral moratorium on exploding atomic bombs, if India resumed nuclear tests, last carried out by the two countries nine years back.Foreign Office spokesperson Tasnim Aslam said India's sovereign right to conduct nuclear tests being preserved in the Indo-US nuclear deal should be a "source of concern" not just for Pakistan but to the international community as well.
CAST YOUR VOTE
Is the fall in Sensex a cause of concern?



India: The Tasks Ahead
SPECIAL SUPPLEMENT
125TH ANNIVERSARY CELEBRATIONS,
INAUGURAL SESSION



ADVERTISEMENT


CHANDIGARH

LUDHIANA

JALANDHAR

DELHI

HIMACHAL PLUS

HARYANA PLUS
New

AMRITSAR PLUS

LIFESTYLE

BRIDES WANTED

GROOMS WANTED

OTHERS

HOW TO PLACE ADVTS

Produce Argentinian court order on Q, SC tells CBI
New Delhi, August 20
The CBI was today directed by the Supreme Court to place before it the order of an Argentina court rejecting extradition of Italian businessman Ottavio Quattrocchi, an accused in the Bofors gun deal case. Since this order was subject matter of the CBI appeal before the Argentina Supreme Court, from where it was withdrawn dramatically last week by a lawyer hired by the CBI there as a special prosecutor, a Bench, headed by Chief Justice K.G. Balakrishnan sought to put it on record within four weeks.
Interim bail for Sanjay


New Delhi, August 20
Bollywood actor Sanjay Dutt, serving six-year imprisonment in Yerwada Jail in an Arms Act case related to 1993 Mumbai serial blasts, today got a temporary relief from the Supreme Court as it ordered his release on interim bail till the copy of the judgement is delivered by designated TADA judge P. D. Kode.
Kauser Bi Case
No 'info' on killing
New Delhi, August 20
The Gujarat government today submitted before the Supreme Court that it had "no information about the time and manner" in which Kauser Bi, wife of alleged extortionist Sohrabuddin Sheik, was killed by the Gujarat police.
| | |
| --- | --- |
| | |
| | HARYANA: Notices to CBI on dera chief's bail pleas |
| | HIMACHAL: Relief manual: BJP for all-party meet |
| | |
| | CHANDIGARH: Emergency numbers don't work here |
| | LUDHIANA: Overzealous MC jumps rules |
| | |
| | OPINIONS: Save the deal |
In Education Tribune today
HOROSCOPE

E - Revolution 2005:
A Two-day IT conclave

Assembly Elections - 2005

Turbans

Chandigarh is 50

EARLIER FEATURES
Nafed hikes onion MEP to curb speculation
New Delhi, August 20
To check speculative export of onions and control its spiralling domestic price, the National Agricultural Cooperative Marketing Federation of India (Nafed) today increased the minimum export price (MEP) of onion by $100, from $345 to $445 per tonnes. Effective from today, the decision is expected to control the price of onion within the next four to five days by putting a check on speculative export.


Indians attacked in Germany


Muegeln, August 20
A mob attacked a group of Indian fairgoers in a village in the eastern German state of Saxony, German police said. Eight Indians and four Germans were reported injured. The incident occurred at a village festival overnight on Sunday night in Muegeln. After a scuffle broke out shortly after midnight in a festival tent, a group of about 50 mostly young Germans apparently pursued a group of Indian visitors, who fled into a pizzeria. The doors of the restaurant were kicked in by the pursuing mob.
N-deal: Govt may set up panel of experts
August 20, 2007
Karat: Pause or else...
August 19, 2007
Support now only on merit, says Bardhan
August 18, 2007
India free to test, not bound by Hyde: Govt
August 17, 2007
Big I-Day deal for farmers
August 16, 2007
65 feared dead in HP cloudburst
August 15, 2007
India's interest unharmed: PM
August 14, 2007
N-deal: Left unmoved
August 13, 2007
We will sort it out: PM
August 12, 2007
N-deal: Left toughens stand, PM unmoved
August 11, 2007