PUNJAB

HARYANA

JAMMU & KASHMIR

HIMACHAL

REGIONAL BRIEFS

NATION

OPINIONS

MAILBAG

BUSINESS

SPORTS

WORLD
ADVERTISEMENT
Thursday, August 23, 2007, Chandigarh, India
Updated at 3:00 am (IST)

Soren acquitted
HC finds evidence insufficient


New Delhi, August 22
Former union minister and JMM leader Shibu Soren, undergoing life sentence for plotting the murder of his secretary, was today acquitted by the Delhi High Court due to lack of evidence.

Editorial: Slap for CBI

Japan promises support at NSG
Crisis will blow over, says Manmohan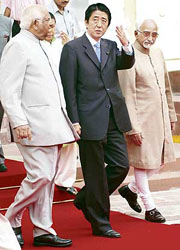 New Delhi, August 22
Prime Minister Manmohan Singh tonight exuded confidence that turbulence over the nuclear deal will be overcome, saying "if winter comes, will spring be far behind?"


Japanese Prime Minister Shinzo Abe with Vice-President Hamid Ansari and Lok Sabha Speaker Somnath Chatterjee at Parliament House in New Delhi on Wednesday. — Tribune photo by Mukesh Aggarwal

Editorial: Broader Asia
CAST YOUR VOTE
Is the fall in Sensex a cause of concern?

ADVERTISEMENT


CHANDIGARH

LUDHIANA

JALANDHAR

DELHI

HIMACHAL PLUS

HARYANA PLUS
New

AMRITSAR PLUS

LIFESTYLE

BRIDES WANTED

GROOMS WANTED

OTHERS

HOW TO PLACE ADVTS
Japanese PM skips reference to N-deal
New Delhi, August 22
The visiting Japanese Prime Minister, Shinzo Abe, created a record of sorts when he addressed a joint session of Parliament today, 50 years after his grandfather Nobusuke Kishi did so.
Japanese PM's wife visits HIV +ve kids
New Delhi, August 22
A group of HIV-positive children in a hospital here had a special visitor today -- Japanese Prime Minister Shinzo Abe's wife Akie, who spent some time with them, hugging them and enquiring about their health.
Nuke Deal
Left to take fight to streets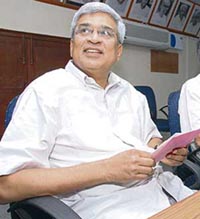 New Delhi, August 22
As the stand-off on the nuclear deal continues, the 85-member central committee of the CPM is drawing out plans to corner the government inside Parliament and also to take the fight to the streets to build up momentum for the snap poll.
CPM General Secretary Prakash Karat at the party's central committee meeting in New Delhi on Wednesday.
RJD also joins chorus
New Delhi, August 22
Indian envoy to the US, Ronen Sen, became a target of verbal attack of furious MPs for the second day today for his tactless remarks against opponents of the nuclear deal. In video (56k)

There are deliberate attempts by members day in and day out to disrupt the proceedings. It seems they are not desirous of running the House. — Somnath Chatterjee
| | |
| --- | --- |
| | |
| | HARYANA: 300 villagers hospitalised |
| | HIMACHAL: Work begins on Jakhu aerial ropeway |
| | |
| | CHANDIGARH: GMADA inks paying guest policy |
| | LUDHIANA: Sidhwan Canal goes the Budda Nullah way |
| | |
| | OPINIONS: Slap for CBI |
HOROSCOPE

E - Revolution 2005:
A Two-day IT conclave

Assembly Elections - 2005

Turbans

Chandigarh is 50

125 Years of The Tribune
India: The Tasks Ahead

EARLIER FEATURES
Punjab may cut stamp duty
A day after the ruling SAD-BJP combine was talking of additional resource mobilisation, Chief Minister Parkash Singh Badal said the government was planning to reduce stamp duty in the state and bring it on a par with that of the Central government's. (Details on Punjab page)
Harris joins ICL
Former New Zealand all-rounder Chris Harris has joined the Indian Cricket League and two of his ex-teammates, Chris Carins and Nathan Astle, would soon follow him, media reports claimed today. (Details on Sports page)

Medical test shows tribals not raped
Rights groups, parties take to streets; probe demanded
Hyderabad, August 22
The Andhra Pradesh police finds itself in the dock over the alleged rape of 11 tribal women by police personnel attached to anti-Naxalite wing in Visakhapatnam district.
(Details on Nation page)


Damage to cotton crop
PM seeks report from Punjab
Chandigarh, August 22

| | | |
| --- | --- | --- |
| Prime Minister Manmoh- an Singh has sought a report from the Punjab government with regard to the damage caused to the cotton crop by adverse weather conditions this year. | | A fall of 15 to 20 pc in production is likely this year in the cotton belt comprising Mansa, Bathinda, Muktsar and Ferozepore districts of Punjab and Sirsa, Fatehabad and Hisar districts of Haryana. |

Ronen adds to turmoil, apologises
August 22, 2007
PM pitches for N-energy, Left narrows govt options
August 21, 2007
N-deal: Govt may set up panel of experts
August 20, 2007
Karat: Pause or else...
August 19, 2007
Support now only on merit, says Bardhan
August 18, 2007
India free to test, not bound by Hyde: Govt
August 17, 2007
Big I-Day deal for farmers
August 16, 2007
65 feared dead in HP cloudburst
August 15, 2007
India's interest unharmed: PM
August 14, 2007