Hanging in There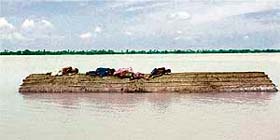 A family takes shelter on the roof of their flooded house at Warish Nagar in Samastipur district on Saturday. — PTI
ST status: Gujjars threaten stir
Jhalarapatan (Rajasthan), August 26
Gujjras today threatened to launch a nationwide agitation if their demand for according Scheduled Tribe status to them was not met by the Vasundhra Raje government by September 12.
CPI threat on IAEA meeting
Vadodara, August 26
CPI national general secretary Shameen Faizee today said all four Left parties were united on their stand against the "anti-national" Indo-US nuclear deal and asserted that they would withdraw support to the UPA government at the centre if it went ahead with the India-specific International Atomic Energy Agency negotiations at its Vienna Summit on September 19.
No trendy denims for Bihar babus
Patna, August 26
Senior ministers of the ruling NDA in Bihar, including Deputy Chief Minister Sushil Modi, have often spoken in favour of a pro-active and sensitive bureaucracy to bridge the gap between the people and the administration to deliver the promised good governance by the Nitish regime.
Scientists find uranium in Ladakh
Bangalore, August 26
Scientists have for the first time found uranium in "exceptionally high concentration" in Ladakh. Samples of rocks analysed in a German laboratory have revealed uranium content to be as high as 5.36 per cent compared to around 0.1 per cent or less in ores present elsewhere in the country.
Women to combat insurgency for the first time
Chennai, August 26
For the first time in its history, the Indian Army is training its women officers to combat insurgency. Last week, not only gentleman cadets but also for the first time in the history of the Officers Training Academy here even lady cadets participated in training for counter-insurgency operations (CI OPs).


Mother Teresa remembered on birth anniversary
Kolkata, August 26
Celebrations and special prayers were held at the headquarters of Missionaries of Charity, founded by Mother Teresa, here today to commemorate her 97th birth anniversary.

Sister Nirmala, successor to Mother Teresa, lights a candle to celebrate the 97th birth anniversary of Mother Teresa at the Mother House at the Missionaries of Charity in Kolkata on Sunday. — AFP photo
Malaysia woos tourists from North-East
Guwahati, August 26
The Tourism Malaysia is eyeing the ever-growing number of globe trotters from the North-East as part of golden jubilee celebrations of Malaysia's nationhood. A delegation of the Tourism Malaysia, nodal agency for promoting Malaysia as global tourist destination, was here to talk business.
States told to tighten security
New Delhi, August 26
The ministry of home affairs today sounded a general alert and asked all state governments to tighten security and intensify intelligence network in the wake of yesterday's blasts in Hyderabad.
Explosives came from Nagpur firm
Nagpur, August 26
The police here today conducted searches on the premises of Amin Traders, the firm that reportedly sold the explosives used in the twin blasts in Hyderabad.
President condemns blasts
New Delhi, August 26
President Pratibha Patil has condemned the blasts in Hyderabad in which a number of people have died and many others have been injured.
Prez, PM greet nation on Onam
New Delhi, August 26
President Pratibha Patil and Prime Minister Manmohan Singh today greeted the nation on Onam and hoped the festival will herald happiness and prosperity for people.
Vajpayee discharged
New Delhi, August 26
Former Prime Minister Atal Bihari Vajpayee was today discharged from the All-India Institute of Medical Sciences (AIIMS), where he was admitted on Tuesday after he complained of giddiness.
Hema acquitted in decade-old case
Kota, August 26
A court here has acquitted actress Hema Malini in a decade-old case in which she was accused of not turning up for a show despite accepting performance money in advance.
2 hurt in Patna college blast
Patna, August 26
Two labourers were seriously injured after a blast in the godown of Patna Engineering College here today. The police said it was cane bomb. According to eyewitness, the police recovered another live cane bomb from the spot.
Ayodhya complex: 4 held for trying to offer 'namaz'
Ayodhya, August 26
Four youths were today arrested on their way to the disputed Ram Janambhoomi-Babri Masjid complex to allegedly offer 'namaz', a senior police official said.
Tyre bursts during Boeing landing
Varanasi, August 26
A Patna-Delhi Jetlite's Boeing 737 aircraft carrying 68 passengers had a close shave today when one of its front tyres burst while landing at the Lal Bahadur Shastri airport near here.