| | | |
| --- | --- | --- |
| | HARYANA | |

Gohana (Sonepat)
Tele-medicine unit: Haryana Chief Minister Bhupinder Singh Hooda on Sunday formally inaugurated a tele-medicine unit of Sir Ganga Ram Hospital, Delhi, in Civil Hospital here. Interacting with the Union Science and Technology Minister Kapil Sibal at Ganga Ram Hospital, the CM urged him to provide such tele-medicine facilities in other areas of the state also. Earlier, Hooda laid the foundation stone of a 33 kv power substation at Bichpuri village.
KURUKSHETRA
Lok Adalat: As many as 192 cases were settled at a Lok Adalat at the judicial complex here on Saturday. It was disclosed on the occasion that a compensation to the tune of Rs 72.66 lakh was given in 53 cases of Motor Vehicle Act while 21 persons were fined Rs 7,150 in summary cases.
Rewari
Cremated: The body of an Army jawan Kanwaljit Singh was cremated with honours at his native village Berwal,15 km from here, on Friday. Kanwaljit , who was currently posted at Jodhpur in Rajasthan, was electrocuted on Wednesday when he was reportedly inserting wire of a battery into the switchboard for recharge at a base camp of the Army.
Yamunanagar
Workshop held: A workshop on "21st century leadership and learning process" was held at Ganpati Knowledge Temple, Bilaspur, here on Saturday. Prof Arun Sacher, GM, Industry Interaction, Amity International Business School, said strong foundation of ethics, positivism, passion and excellence was must to achieve success in life.
Electrocuted: Chief of the local bureau of a Hindi daily Sharwan Saini was electrocuted at his residence in Uchachanana village on Sunday. Family members said there was electric current in the water pumping motor in the bathroom. Saini came in contact with it and died on the spot.

BERRY BIASED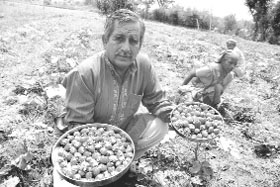 FRUITFUL PURSUIT: A farmer of Jammu with his strawberry produce.
The strawberry growers of Jammu are up in arms against the state government for providing "step-motherly" treatment to them in granting technical support vis-à-vis the growers of Kashmir valley.
Those engaged in strawberry cultivation in Jammu have transformed the worst "kandi" areas into hubs of fruit production virtually without any encouragement from the Horticulture Department. Earlier, small quantities of strawberry used to come to the town from Kashmir, but now it itself produces a fair amount with almost 200 farmers engaged in its cultivation.
Shyam Singh earned a profit of Rs 6 lakh last year from the strawberry that he grew on the arid land that was lying in disuse for the past several years. He has now dug up a well to irrigate the fields.
These farmers have demanded early payment of compensation for loss to their crop due to heavy rains in March and April and a CBI inquiry into the alleged misuse of funds provided to the state by the Centre under the technology mission.
Logging on to child welfare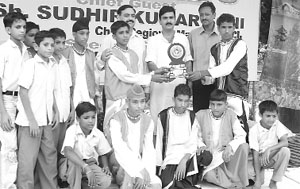 Officials of the Hindustan Petroleum Corporation Ltd with students of Government Senior Secondary School, Daroli Kalan, near Adampur.
The regional office of Hindustan Petroleum Corporation Ltd (HPCL), Jalandhar, has launched various programmes in the district as part of its corporate social responsibility.
The company handed over the possession of a computer room constructed at a cost of Rs 6.5 lakh in Government Senior Secondary School, Daroli Kalan, near Adampur, to the school authorities on Independence Day.
The school management urged senior regional manager of HPCL Sudhir Kumar Soni to provide them with computers. In response, the company has decided to provide 12 computers.
As many as 134 uniforms were also distributed among the poor students of five schools.
These activities have been facilitated by Monty Sehgal, general secretary, Punjab Youth Congress.
The HPCL has also conducted adult education programmes at Ramnagar village, near Adampur. Under the programme, primary books have been distributed and those successfully finishing the course content have been given Rs 500 each. Now the firm's aim is to provide clean drinking water to schoolchildren.
Maiden run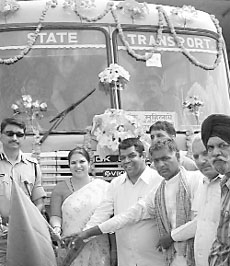 Deputy Commissioner Deepti Umashankar flags off the women's special bus service in Hisar. — Tribune photo by P. L. Munday
Haryana Roadways has started a Women's Special bus service between Hisar and Balsmand village for girl students and rural women.
The service was flagged off recently by Deputy Commissioner Deepti Umashankar, at whose initiative it has been introduced.
She says it will provide opportunities to girls from nearby villages to come to Hisar for higher education. Besides, aged women will also find it useful. It will prove an important step towards women's empowerment.
While riding the bus on its inaugural run, she was flooded with suggestions that its driver and conductor should also be women.
Officials informed that two sisters from the nearby Mirkan village — Rajbala and Ritu — were undergoing training for bus driving and once they completed it, one of them would be deputed for this service.
The two sisters, who participated in the maiden journey, demanded that the training fee of Rs 1000 each should be waived as an incentive for venturing into a field hitherto considered as a male bastion.
Contributed by S.P. Sharma, Vishal Gulati and Raman Mohan