M A I N N E W S
Lashkar, Jaish behind blasts: Home secy
Tribune News Service
New Delhi, August 27
As investigation into the twin blasts in Hyderabad is on, the Centre said today that security agencies were suspecting the involvement of Pakistan-based outfits like Lashkar-e-Taiba or Jaish-e-Mohammad behind the strike that killed 40 persons.
"Security agencies and the state police were suspecting the role of Lashkar-e-Taiba or Jaish-e-Mohammad (to be behind the blasts)," union home secretary Madhukar Gupta said. He was replying to a question on whether any group has been identified for the blasts.
While cautioning that the investigations are at a "very preliminary stage", Gupta said it was more important to nab those who planned it and executed the terror attacks.
"Investigations are in a very, very preliminary stage and based on some information so far, some possibilities have been identified and expressed," the home secretary told newspersons here after flagging off a BSF mountaineering expedition. "These elements or organisations are clearly outside the country and they resort to fuelling such kinds of activities," he added.
Gupta's comments came a day after union home minister Shivraj Patil refused to comment on whether terror groups based in Pakistan and Bangladesh were behind the blasts.
Andhra Pradesh Chief Minister Y.S. Rajasekhar Reddy has already blamed international terrorist organisations for the blasts. To a pointed question on India and Bangladesh's recent agreement during the home secretary-level talks to help each other in security related issues, he said: "We intend to set up a mechanism with Bangladesh where actionable intelligence could be shared with each other." Gupta also called for strengthening the intelligence apparatus of the state governments.

Hyderabad Blasts
Pakistan rubbishes Reddy's accusation
Afzal Khan writes from Islamabad

Pakistan foreign ministry spokeswoman Tasnim Aslam gestures as she replies to a question during a news briefing in Islamabad on Monday. — AFP
Pakistan on Monday rubbished Andhra Pradesh Chief Minister Y.S.R. Reddy's insinuation of an "ISI hand" in the Hyderabad blast and called for awaiting results of investigations.
"I have not seen any official statements; I have only seen statements attributed to some Chief Minister," foreign office spokesperson Tasnim Aslam said while responding to a question at weekly briefing regarding Reddy's accusation.
Aslam condemned the blast in Hyderabad and said Pakistan denounces all acts of terrorism and is committed to combat terrorism because it was itself a victim.
Declining to comment on the accusation of a Pakistan hand in the blasts, the spokeswoman dismissed it as "conjecture", but said "It's always better to investigate incidents of terrorism than to start speculating".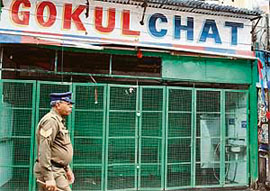 A policeman walks past the fenced Gokul Chat eatery, the site of a August 25 bomb blast, in Hyderabad, on Monday. — AFP
She recalled that earlier this year, the two countries had set up an anti-terror mechanism to avert bilateral tensions that always follow allegations of the kind articulated by Reddy. It was meant to be a forum where such concerns could be aired, and through it, India and Pakistan were to provide assistance to each other in the investigation and prevention of terrorist acts on either side.
The first meeting of the mechanism was held in March last. It was decided to hold such meetings quarterly, but no further meeting has taken place. Aslam said the foreign ministry was awaiting an official to take up his posting as additional secretary in the ministry, who would head the anti-terror mechanism from the Pakistan side, and that the meetings schedule would be fixed thereafter.
Responding to another question, the spokeswoman said Pakistan has proposed to discuss bilateral ban agreement on nuclear tests.

Dhaka rejects Indian claim on blast link
Dhaka, August 27
Bangladesh has rejected the Indian claim that a terrorist group based on its soil was involved in the weekend bombings in Hyderabad, describing it as "baseless".
"The allegations are baseless and I reject them," Foreign Affairs adviser Iftekhar Ahmed Chowdhury was quoted as saying by the media here today.
He was asked about Andhra Pradesh Chief Minister Y. S Rajasekhara Reddy's statement that available information pointed to the involvement of international terrorist organisations in Bangladesh and Pakistan.
Earlier, the adviser condemned the attacks saying "such abhorrent violence is a blot on the conscience of humanity".
"Our thoughts today are with those who lost their dear ones in this dastardly act," he wrote in a letter to Indian External Affairs Minister Pranab Mukherjee.
Chowdhury told reporters that the Bangladesh government would never retreat from protecting the country's interests in the face of any wrongful allegations. — PTI

US praises India's 'great courage' in face of terror
Washington, August 27
The USA has praised India for showing "great resolve and courage" in the face of extremist threats and vowed to stand by it in the fight against terror.
In a formal statement condemning the terror attacks in Hyderabad that left at least 42 persons dead, the State Department said there was no justification for killing innocents.
"India has shown great resolve and courage in the face of extremist threats. We continue to stand by the Indian people in the fight against terror," acting spokesman Tom Casey said last evening.
"We condemn the attacks that occurred in Hyderabad. Our hearts and prayers are with the people of India. There is no justification for harming and killing innocent people," the statement said.
"The Indians are our friends and allies. Inciting violence and committing violence against innocent people is never acceptable," a State Department official had told PTI earlier.
At least 42 persons, including five women and seven students, were killed and 50 injured in two explosions at a crowded park and a popular eatery in Hyderabad on Saturday evening. — PTI

Blasts: BJP to move adjournment motion
Tribune News Service
New Delhi, August 27
The Bharatiya Janata Party today announced that it would move an adjournment motion in Parliament over the Hyderabad blasts saying that the government's handling of internal security was responsible for the terrorist acts.
BJP deputy leader in the Lok Sabha Vijay Kumar Malhotra charged the Congress-led government at the centre with practically doing nothing to deal with terrorism.
"This government has made a record of verbal somersaults whenever it is asked about steps being taken to rein in terror. It only carries out appeasement politics. We will move an adjournment motion on Wednesday," Malhotra said.
The BJP leader, whose party had called for suspension of peace talks with Pakistan after the Mumbai train bombings, maintained that India was required to give top priority to holding a dialogue with Islamabad on terrorism.
There is no point in taking these so-called confidence-building measures when terrorist groups based across the border are striking our country, Malhotra pointed out.

They went to buy rakhis, but never returned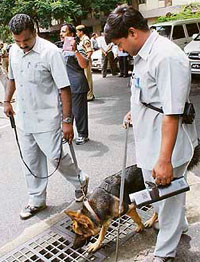 Railway policemen use a sniffer dog to check the bookstall near the railway station in Secunderabad on Monday. — AFP
Hyderabad, August 27
Fourteen-year-old Saravanthi and her cousin Srilekha, 17, had gone out with their aunts to buy rakhis here but stopped for a bite at a popular eatery on their way back home. And they never returned to express their love for their brothers.
Their dreams came to an abrupt end on Saturday evening when the powerful blast rocked Gokul Chat.
Saravanthi, Srilekha and their aunt Susheela were killed in the attack, while another aunt Deepika was injured.
"She had told me that she would buy a colourful rakhi while I was planning to give her a surprise gift. Who will tie me a rakhi now?" asked Venu, her only brother, crying inconsolably.
A pall of gloom descended on two houses in Uppal neighbourhood. Saravanthi, daughter of Anjanyeulu, was a Class IX student and dreamed of becoming a chartered accountant.
Anjanyeulu's brother Shankar too lost his only daughter. Srilekha, 17, who was waiting for admission in an engineering college, had also gone to buy rakhis for her two brothers.
It was a triple tragedy for Anjanyeulu and Shankar. They also lost one of their sisters. Like every year, Susheela and Deepika were making preparations for the festival. Susheela bore the brunt of the blast and her body was badly mutilated.
Working as an agent for an insurance company, Susheela was married to a bus conductor.
"We were eating samosas when the huge explosion destroyed everything. I did not know what happened and when I regained consciousness I found myself in hospital," said Deepika, who received minor injuries.
Another family lost two young members in the blast. The temptation to have the crispy snacks drew Mohammed Rizwan, 16, and his cousin Yahiya Abdul Qader, 17, to their death.
The duo, students of Class XII, stopped at the famous eatery on their way to Rizwan's house in New Malakpet. They were returning from Yahiya's house in Vijaynagar Colony. The two boys were buried on Sunday. — IANS