PUNJAB

HARYANA

JAMMU & KASHMIR

HIMACHAL

REGIONAL BRIEFS

NATION

OPINIONS

MAILBAG

BUSINESS

SPORTS

WORLD

CHANDIGARH

LUDHIANA

JALANDHAR

DELHI

HIMACHAL PLUS

HARYANA PLUS

AMRITSAR PLUS

LIFESTYLE
HOROSCOPE
Wednesday, August 29, 2007, Chandigarh, India
Updated at 3:00 am (IST)

123: Bardhan has 5 questions to ask
New Delhi, August 28
After beating about the bush on the mechanism to address the concerns over the nuclear deal, Communist Party of India today laid out the issues it wants the Manmohan Singh government to clarify on the 123 agreement.
Hyde Act and its impact on the agreement
US demands on Indian foreign policy
Its affect on India's strategic N-programme
If it binds India and USA in a strategic partnership
Programme's influence on Indian economy

Nation page: RSP questions relevance of proposed panel

Dalit's Murder
20 hurt in police cane-charge
Gohana (Sonepat), August 28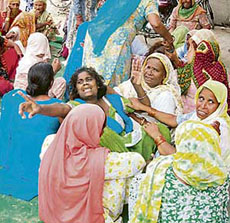 Tension that marked this sleepy township through the day finally ended late this night after the last rites of the Dalit youth Rakseh were performed peacefully at 9.35 pm. Sources confirmed that the peace committee finally succeeded in convincing the aggrieved family for cremation of their son.
Grief-stricken sister and other family members of Rakesh stage a dharna at Samta Chowk in Gohana on Tuesday. — A Tribune photograph
CAST YOUR VOTE
Is the fall in Sensex a cause of concern?

ADVERTISEMENT

ADVERTISEMENT

BRIDES WANTED

GROOMS WANTED

OTHERS

HOW TO PLACE ADVTS
In Health & Fitness today
In Jalandhar Plus today
In Jobs & Careers today
Petrol, diesel prices up in Punjab
Chandigarh, August 28
The prices of petrol and diesel in Punjab are up by 94 paise and 16 paise, respectively, as the state government has reimposed VAT on fuel prices, which will bring a revenue of Rs 100 crore.
Bid to kill Bhajan: Six convicted
Chandigarh, August 28
Of the 13 accused in Bhajan Lal attempt-to-assassination case, six were convicted but only under milder charges and not for an attempt to kill the former Haryana Chief Minister.
CM blames Centre for economic divide
Baba Bakala, August 28
A master plan for this historic city would be prepared soon by a world-renowned architect to turn it into a global destination for religious tourism. Chief Minister Parkash Singh Badal announced this while addressing a rally held on the occasion of Rakhar Punnia here today.
(Details on Punjab page)


In Amritsar Plus today
In Himachal Plus today

E - Revolution 2005:
A Two-day IT conclave

Assembly Elections - 2005

Turbans

Chandigarh is 50

125 Years of The Tribune
India: The Tasks Ahead

EARLIER FEATURES
Hitches in Mush-Benazir deal
President Musharraf's top aides on Tuesday exchanged a set of proposals in London with PPP chairperson Benazir Bhutto to remove snags that have cropped up in the Musharraf-Benazir deal with the latter demanding that the government respond publicly by Thursday.
(Details on World page)
IAF floats tender for 126 fighters
New Delhi, August 28
After a laborious and time consuming process, the Indian Air Force floated a global tender today for 126 fighter jets at an estimated cost of $ 10 billion.
(Details on Nation page)


VB raids Punjab agro godown
10,000 wheat bags found missing
Chandigarh, August 28
Close on the heels of the Markfed atta-dal scam, the Punjab vigilance bureau has discovered wheat bags (bardana) worth lakhs missing from a Punjab Agro Food Grain Corporation godown at Nabha. The bureau has also found bags of wheat missing from the godown. DSP (vigilance), Patiala, Anil Kumar Sharma said the godown was sealed last evening and till now over 10,000 packaging bags were found missing.
123: Political deal in 4 days
August 28, 2007
AP govt blames terror groups in Pak, B'desh
August 27, 2007
Hyderabad twin blasts kill 41
August 26, 2007
Poacher Salman on the run
August 25, 2007
A trifle mild but CPM sticks to its N-guns
August 24, 2007
Soren acquitted
August 23, 2007
Ronen adds to turmoil, apologises
August 22, 2007
PM pitches for N-energy, Left narrows govt options
August 21, 2007
N-deal: Govt may set up panel of experts
August 20, 2007