Lasting Bond with the hills
Rajnish Wattas visits the most famous address in Mussoorie and meets the childlike Ruskin Bond whose latest work is an ode to nature.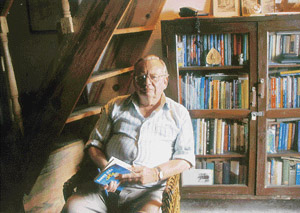 Lately, thanks to Vishal Bhardwaj's award-winning film The Blue Umbrella, based on Bond's novella, the writer has been receiving a lot of blue umbrellas from children

Recently when Ruskin Bond walked into the Cambridge Book shop at Mussoorie to sign books for his legion of fans, I almost felt like saying, "I've been expecting you Mr Bond." This Bond, too, shoots but with his pen, and that, too, with disarming humour. In fact, at 73 he comes across more like the favourite story-telling, amiable, uncle.
Children of all age groups with equally excited parents want their copies to be autographed or pose for a picture with him. He, in turn, never says no and has something witty or nice to say to everyone. The excitement is all about his new Ruskin Bond's Book of Verse.
This happens quite often, for in the summer rush of tourists to Mussoorie, Bond — as he himself confesses – has become a local landmark. Many times, much to the annoyance of the writer, bus loads of tourists are dropped by enterprising guides at his residence to see the famous ' local sight'. "It's hard to shoo them off, but then I can't do any work," laments Bond. However, he is kind enough to invite me to his cottage next day. The Ivy Cottage in Landour is a well-known address, and one of the landmarks that Bond tells me to look out for, is the pack of pariah dogs that 'guard' the stairway to his cottage from the street below. While I'm waiting for the canines to make way, Bond shouts from his famous arched window above, "Come up `85 they won't say anything". On seeing their on unofficial master, their tails begin to wag, and I climb up a red-painted, steep stairway.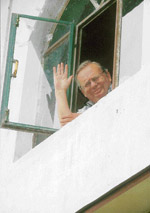 A peep into his world reveals how Bond is content to be a recluse and remains anchored in his simple writerly life.— Photos by the writer
I'm ushered by the writer with a warm welcome. His study-cum-living room is lined with books, books and books, and some memorabilia such as his parents' pictures, his Padma Shri award and Doctorate from Uttaranchal University. A pine wood stairway leads to a mezzanine floor. The room is sparsely furnished, more for comfort and warmth than 'style', much like Bond himself.
As we settle down to conversation, tea is brought in, even as children of his adopted family keep running in and out of the room. Bond attends to some phone calls for Dolly and Siddharth, his grandchildren, before he yells out to them for 'no disturbance' and we resume our talk.
He is particularly happy with his latest Book of Verse (Penguin) brought out this year and Funny Side Up, which is a collection of humorous pieces, published earlier by Rupa. In a way, these two collections define Bond's quintessential work and his persona, and, of course, his love for nature. Bond is a natural, unpretentious writer and person with wit and a sense of humour that is spontaneous.
The writer with a lonely, poignant childhood; certainly is a recluse, but of a sunny disposition. His large compendium of work spanning more than five decades is redolent with solitude, innocence and a rare comic, literary energy.
His poetic meditations have the ease and flow of nature's creations. A verse from his book, "This leaf so complete in itself/ Is only part of a tree/ And this tree, so complete in itself `85" epitomises it.
Vishal Bhardwaj's recently released award-wining film The Blue Umbrella, based on Bond's novella, has received much critical acclaim. As a result, there has been a renewed upsurge of popularity for his simple hill tales. The film, an aesthetic feast that captures the essence of the writer's tale of innocent worlds wounded and remade, is poetry on celluloid, powered by brilliant acting and direction. Its release was a cause for special celebrations in Chandigarh, as two of the actors in the film are from the city. And also because the endearing, little girl Shreya doing the role of Biniya, had especially come down from Shimla, for a reception in the city.
Lately Bond has been receiving a lot of blue umbrellas as gifts from readers. But a schoolgirl gifted him a small, red umbrella, which leaves most of his broad middle wet. Bond recalls, "When I asked her as to why she had given me a children's umbrella?" pat came the reply, "Because you are a children's writer!"
In fact, more film projects and tele-serials based on his writings are on the anvil. Recently a producer from Mumbai bought the rights for his short story The Eyes Are Not Here.
Though happy about these happenings, Bond stays anchored in his routine of a simple writerly life an enduring love affair with the hills and the inspiration they provide him. He continues to write with an old ball point and a school notebook. His small study in the adjoining room is simple in its d`E9cor. Sheafs of notes, paper and books for review, and anthologies for editing clutter the desk. Rembrandt-like lighting streams in through an arched window – from where he muses at the mist-wrapped Pari Parbat in the distant horizons or listens to the whistling thrush in the mornings.
With a typical air of mischief he points out to me, a caricature of him, sketched as a cowboy with guns out for a draw, sent to him by a fan. Perhaps, it's a tribute to the writer's straight shooting with words. A haiku from his Book of Verse reads, "When I was a boy, I dreamt of/ wealth and fame/ And now I dream of being / a boy again."