Food talk
Salan reigns supreme
Refreshingly light and full of flavour, salan provides equal space to the meat and vegetable, says Pushpesh Pant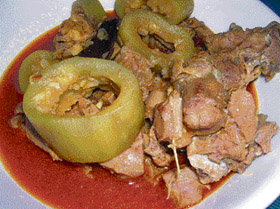 Contrary to popular belief, mankind in Awadh doesn't live by korma and kaliya alone. Nor is the noble repertoire limited to dum pukht and do pyaaza. There are outstanding salan — meat dishes cooked with seasonal vegetables — that are refreshingly different, light and full of flavour.
These dishes are not to be confused with delicacies that just add a vegetable, potato or tomato for instance, to the meat to play around with textures and tint.
The closest comparison that springs to mind is the saag gosht from Punjab. The idea in a salan is to provide equal space to the meat and vegetable. The role of the vegetable is not that of an accompanist supporting the star; it is truly a culinary jugalbandi.
It would be wrong to confuse these with rustic rural fare or recipes that 'stretch' the non-vegetarian dish. These draw upon the time-tested wisdom of ayurveda and Unani tibb.
In the scorching summer and muggy monsoon when the appetite is sluggish, our metabolism requires lighter yet well balanced nourishing repast.
The palate too is happier with something new. This is what the salan does. The two vegetables that are extremely popular in an around Lucknow are lauki and torai.
We have also had the salan prepared with gobhi, bhindi and arabi but have come to conclude that it is the gourds that reign supreme.
One more thing before we end. You may, if you like, try out a variation. Reduce the quantity of water used by half a cup and let the meat be done on low flame cooked in its own juices blending with the moisture released by the lauki.
The dish takes longer to cook and lauki gets dissolved merging in the meat so to speak. The gravy is thicker in this case. We, personally, prefer the vegetable to be visible and retain its crunch.