Reelpolitik
There are politicians as portrayed by celluloid heroes and heroes who turn politicians in real life. Shoma A. Chatterji analyses some films in this genre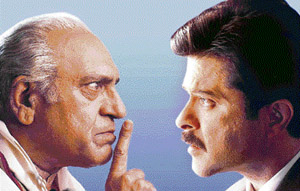 Amrish Puri and Anil Kapoor in a still from Nayak
Bollywood has a tendency to portray heroes as political leaders in films, an extension of film stars doubling up as politicians through popular mandate. Is there a difference between the two? Yes, there is. While heroes who have become MLAs, MPs and ministers have done little to live up to their electoral promises, the celluloid hero as political leader is a crusader of people's rights. He offers a counterpoint to the death-wish brand of anti-heroes given a brand identity by the Bachchan persona in the 1970s and 1980s.
Though box office records of films with heroes as political leaders are rather skewed, some of these films become extremely popular in their re-runs in theatres and on television. Look at the Anil Kapoor-starrer Nayak, for example. It is doing very well in its television re-runs.
Nayak (2001), a remake of director Shankar's South Indian original, talks about QTV's ace reporter, Shivajirao Gaekwad (Anil Kapoor) who becomes the Chief Minister of Maharashtra for one day when the current CM Balraj Chauhan (Amrish Puri) challenges him to take it up. Assisted by Bansal, Gaekwad discovers around 46,000 corrupt officials in the state and orders their suspension. He tours the city himself and orders the arrest of 12 ministers, including the CM himself, making himself their enemy.
Like Cinderella, he slips back into his TV journalist persona at the end of the day only to find that his life has changed forever. He has placed his own life and the lives of people close to him in grave danger and is faced with the choice of running away and continuing with his crusade, ignoring the risks involved.
A gripping script, tight editing and experimentation with visuals, at times tending to exaggeration, are the high points of the film, complementing sparklingly strong performances by Anil Kapoor, Amrish Puri and Paresh Rawal.
In 1984, the media was flush with stories on two Hindi mainstream films released almost simultaneously, each with a matinee idol in the lead. One was Inquilab with Amitabh Bachchan and the other was Aaj Ka MLA Ram Avtar. Aaj Ka MLA had a storyline of how a barber becomes an MLA and turns the tables on the entire concept of caste, class and social hierarchy. Ram Avtar (Rajesh Khanna), a barber in a small village, cuts, shaves and grooms all the men in the village, including minister Digvijay Singh. When Singh needs a candidate to represent his party in the elections, he recommends the name of Ram Avtar. Surprisingly, Avtar wins and becomes an MLA. Fresh from the success of Avtaar, Rajesh Khanna made the most of a challenging role that evolved dramatically within the film that had generous doses of comedy spiked with satire. The film was panned by critics who gave the thumbs-down signal to other similar films like Inquilab and Mera Desh.
Inquilab narrates the story of the street-smart Amar Nath (Amitabh Bachchan) who sells fast food and cinema tickets outside cinema halls. He suddenly finds himself under the wings of Shankar Narayan (Kader Khan) who leads a political party by the name of Garibon Ki Party. Shankar helps him join the police academy. He is soon promoted to the post of Police Commissioner following his arrest of a dreaded terrorist. He continues with his chase and arrest of criminals and becomes extremely popular with the people. Shankar invited him to chair the political party and the police loses a good officer. When they begin to groom him to become the CM, wife Asha (Sridevi) realises that he is actually a hit man appointed by Shankar and his cronies to serve their ugly ends. It is then left to Asha to rescue her husband from the clutches of the politicians as she waits to deliver their first-born.
The two things common in these films is – one, they show the evolution of a politician from a humble citizen to a top political leader; and two, the lead is portrayed by a famous star offering a brilliant performance. Inquilab, according to some critics, is one of Amitabh Bachchan's most underrated films while Aaj Ka MLA transformed the romantic lover-boy image of Rajesh Khanna into a bespectacled, Gandhi-cap wearing politician with a tooth-pasty smile on his face.
Interestingly, Amitabh Bachchan and Rajesh Khanna have both stepped into real politics at one time or another but like all celluloid politicians, did not do anything about the people who voted them to that post!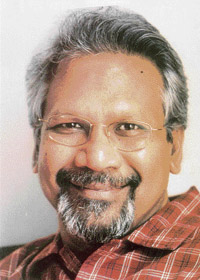 Mani Ratnam probed student politics in Yuva

The recent film to probe into student politics is Mani Ratnam's Yuva (2004). Coming just around the General Elections, this was a film, which, through three young men, Ratnam shows three different faces that define a microcosm of today's urban youth. Michael Mukherjee (Ajay Devgun) is already a student-leader with the commitment of throwing out the current system and replacing it with a new one with grassroots men and women as leaders. Lallan Singh (Abhishek Bachchan) represents the uncouth, unlettered Bihari, who willingly turns himself into the local MLA Bandopadhyay's (Om Puri) henchman without knowing that he is a killer tool for them to be disposed of after use. The Tamilian Arjun (Vivek Oberoi), an incorrigible flirt with the great American dream, is transformed when he experiences at first hand, the commitment to ideals Michael and his team show. He joins them. Without going overboard, Ratnam makes a strong social statement that is open to any interpretation the audience would like to make for and against student political activism. Though Yuva is a mainstream film, its ultimate value lies in Ratnam's power of restraint.
The audience tends to love their favourite hero playing a highly principled and honest political leader. Firstly, these are heroes they idolise as stars and who they have learnt to love. Secondly, they have seen these actors —Amitabh Bachchan, Rajesh Khanna and Anil Kapoor in roles that are varied but which also have negative shades.
In these films, their favourite heroes are shown to rise from the grassroots to something big and turn into political leaders the audience would love to have done in real life. Since this is not possible in an age of corruption and moral decay, the celluloid version of the hero as political leader is a source of vicarious enjoyment for the audience. — TWF