ĎI wonít be typecastí
Subhash K. Jha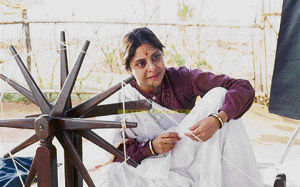 Shefali Shah as Kasturba in Gandhi My Father
Shefali Shah, who plays Kasturba in Gandhi My Father, is not worried about being typecast as an old woman.
"No way, because I play young Kasturba in most of the film. And the cinematographer has made me look better than ever before. I donít think after this role the industry will typecast me," Shefali said.
Rohini Hattangadi got typecast after playing Kasturba in Richard Attenboroughís Gandhi.
But Shefali considers her role in director Feroz Abbas Khanís Gandhi My Father her most important so far.
"Iím at a stage where I think good things will happen to me. People are now willing to cast me in main leads. I think I lacked focus earlier."
Her role as Kasturba is already drawing rave reviews. In fact, Akshaye Khanna, who plays her son in the film, has gone on record to say itís the best performance in India by a female actor.
"I know Akshaye said that. And Iím grateful. At the filmís world premiere, the response was overwhelming. Unfortunately, Nelson Mandela couldnít come due to ill health. That was really sad, though he did send a message. But the South African President and the whole cabinet were there."
Produced by Anil Kapoor, the film had its world premiere in Johannesburg recently and Shefali said after the screening of the film there was stunned silence in the hall.
"I feel this film goes beyond boundaries. All of us got an insight into lives that went way beyond art and acting."
After Gandhi My Father, Shefali will be seen as Anil Kapoorís wife in the Subhash Ghai production Black & White. According to Shefali, "Black & White is not a running-around-trees film. Itís again a socially relevant film. Anil Kapoor is the hero and Iím the conventional leading lady."
"Had it not been a good role I wouldnít have done Black & White. But itís not Gandhi My Father. Nor is it The Last Lear, the English-language film that Iíve completed with Rituparno Ghosh." The talented but under-used Shefali, who had started her career on television, appears to be on the threshold of new beginnings.
"I took a break from acting to look after my babies and got back into shape. Now this is like a comeback. Iíve never felt better."
The Last Lear is also very dear to me, says the actor, who is married to filmmaker Vipul Shah.
"Iím one of the central characters in both Gandhi My Father and The Last Lear. In Rituís film I play my age and someone who looks after Amitjiís character. After Vipulís unit, Rituís was the most warm and organised unit Iíve worked with.
"Iíve worked with productions where scenes are written on the sets. Sometimes Iíve played a character who has nothing to do with the scene given to me."
Not too many people know that Amitabh Bachchan addresses Shefali as maalkin. The actress says she is clueless why he calls her that.
"I know!" she laughed. "It was very embarrassing when he called me that all through Vipul Shahís film Waqt ó Race Against Time and now during The Last Lear. Maybe because I was the producerís wife. ó IANS