Dosa goes global
Gary and Isabel have converted the dosa into an American speciality with a variety of new fillings, writes Rashmi Talwar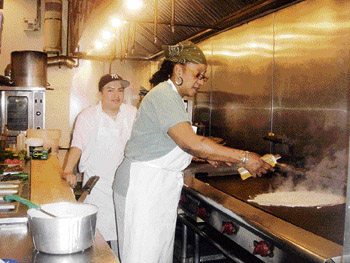 Sylvia Alexander making a dosa at Hampton Chutney Company
Sylvia Alexander has revolutionised the great Indian dosa. She uses unusual fillings like with smoked turkey, spinach, jack cheese and balsamic roasted onions. Being the head chef at the famous Hampton Chutney Company, Sylvia, a Trinidad/Tobago national, has converted dosa and utthappam into American specialities, and now these dishes are truly set to go global.
Giving stiff competition to pizzas, hot dogs and burgers, a chain of three joints by the same company has come up in the last five years in the US.
American couple Gary and Isabel Mac Gurn started this extraordinary foray into essentially Indian cuisine and Americanised it with their indigenous fillings.
Recalling their first meeting, Isabel said they met each other in the kitchens of Siddha Yoga Meditation Ashram in Ganeshpuri, India, and loved dosas and dreamt of opening a dosa/uttapam joint back home in America. Having done seva in the ashram kitchen for nearly six years where devotees from all over India and around the world cooked for hundreds of people, Isabel says: "We learned the art of making dosa and Indian chutneys in 1987, combining it with American ingredients, and supplied them first to food markets in Hampton and then to bigger markets—-Fairways, Zabars, Balducci's and others in New York.
''The chutneys turned into a big hit and subsequently we pooled in money, took small loans and approached a friend to rent a place and opened our first joint in Amagansett, New York. Gary made the first dosas and uttapams and I served the customers, " recalled Isabel with a smile.
After tandoori tikkas made famous by former US President Bill Clinton and Chinese cuisine that caught on to the world palate in its indigenous forms, now it's the turn of dosa to go universal, she added.
It is not surprising then that at no time of the day or night is the place empty. People of all nationalities flock to taste the dosa /uttapam or even the fruit-flavoured lassis in New York.
The fillings indeed are extraordinary and unheard of. Sample a dosa with Calamata olives, Arugula, goat cheese, grilled chicken, roasted peppers, balsamic roasted onions, grilled portobello mushrooms, spinach, scrambled eggs, jack cheese, avocado, Tuna fish, Cilantro chutney dressing or roasted tomato. "Many of our customers enjoy using hands and the 'finger- licking' techniques we give them while telling about the best way to eat dosas ,'' laughs Isabel .
Of course, one can combine the cuisine with another indigenous preparation of the Indian lassi with flavors of mango, strawberry or peach or even Indian chai or special south Indian cardamom coffee . Kids, too, have their special menus with avocado, grilled chicken , scrambled eggs or smoked turkey all combined with jack cheese .
Interestingly, not a single Indian is among the entire set of chefs and other staff that prepare and serve this Indian cuisine. Isabel smiled and said they advertise for help, not for nationalities.
On tapping an absolutely unexploited territory, Isabel and Gary said:'' We were confident about making a mark. And our concoctions are definitely changing America's perception of traditional chutneys and other cuisines.''
Appreciably, the couple has taken upon itself to educate people about the five flavours of their famous chutneys. These chutneys, they suggest, can be eaten with varied combinations that are mostly "unIndian". The new combinations include 'cilantro' or green chutney with shrimp, chicken/ fish, and these, they advise, can be added to black beans for quesadilla filling, or folded into tuna fish. The mango chutney is supposed to taste best with seafood/ lamb/pork, according to them.
Gary and Isabel have, however, not forgotten their roots of learning as could be seen with Om Namah Shivaya written in bold letters with pictures of gods and goddesses decorated with peacock feathers, a Shivling and an oil glass chimney lamp serving as diya on an embellished red prayer cloth in a corner. The rest of the restaurant has copper wall ledges and bar stools for seating.