TELEVISION
Time to dance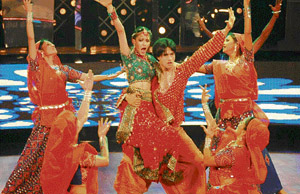 Nach Baliye to make a comeback
It was the original naach-gaana show that spawned a number of clones. When Nach Baliye was first aired in 2005 it swept viewers off their feet and gave a boost to the fortunes of Star One. Its sequel a year later was equally engaging and the programmeís TRPs shot up way ahead of others. The good news is that Nach Baliye is coming back again in its third avatar but this time on Star Plus. Worried at the diminishing popularity of the flagship channel, the bosses have thought it fit to shift the sure shot hit on Star Plus.
This time the couples include Rakhi Sawant and Abhishek Awasthi, Kashmera Shah and Krushna Abhishek, Shakti Kapoor and Shivangi Kapoor, Pooja Bedi and Hanif Hilal, Shweta Keswani and Alexx OíNeil, Karan Patel and Amita Chandekar, Vikas Sethi and Amita Sethi, Karan Grover and Kavita Kaushik and Aamir Ali and Sanjeeda Sheikh.
The show slated for weekend primetime end-September is likely to have a head-on clash with Sonyís Jhalak Dikhla Ja which is also being aired end-September. But neither channel seems worried about the timing.
With both enjoying assured TRPs, it would be interesting to watch which one races ahead. And as far as viewers are concerned, for them itís a case of the more the merrier.
Ninjas in action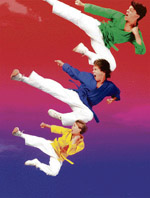 A scene from The Three Ninjas
In the late 1980s and early í90s the Ninjas were a big draw. There were comics, video games and films. But during the frenetic decade, the kids had a number of other diversions and the Ninjas got relegated to the background.
Thanks to television, they are now back. In the 1992 box office hit The Three Ninjas (September 9) at 8 pm on HBO, the superheroes travel to Japan to rescue their grandfather Mori and return a ceremonial dagger that has many interested parties after it, including Moriís longtime enemy and a group of spaced-out heavy metal rockers.
The dagger is the key to a secret cave of gold. Will the Ninjas be able to save the day? Will they find the cave of gold? And will they make it back in time to help their baseball home team, the Dragons, beat their archrivals, the Mustangs? Find out in this pulse-pounding adventure. ó NF