ulta pulta
Token tourism
Jaspal Bhatti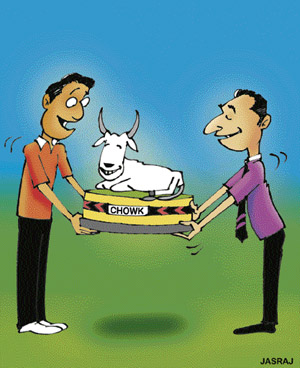 The UT Administration recently launched souvenirs and memorabilia for tourists coming to Chandigarh. Some of the souvenirs included magnets, mugs and T-shirts. I feel these gifts are too seedhe sadhe. People visiting the city would still prefer taking achar from masiji or home-made chutney from their chachiji.
Though the Tourism Department is trying to entice tourists but many of those visiting the city have reasons like "I came to Chandigarh because my uncle works in the Civil Secretariat" or "My aunt teaches at the university".
We must thank Shri Nek Chand who with his Rock Garden has created a tourist spot not worth missing. Otherwise most visitors would have probably gone back appreciating the taverns and liquor shops opened at each prominent crossing of the city. A mini model of a tavern would not be a bad idea as a souvenir.
Itís an appreciable move that Chandigarh has been declared Indiaís first smoke-free city but many chain smokers have started moving out on weekends, saying "Chalo Saturday ko cigarette peene Ambala chalte hain". Many international cities have cigarette lighters with name of the city inscribed on it, so as a smoke-free city we could have cigarette extinguishers as souvenirs.
A T-shirt with a photograph of the Matka Chowk and the riot control police squad could be another souvenir. Postcards with government employees playing cards outside their office could be a wonderful token too. A clay model of a cow controlling traffic at the traffic lights could also be marketed well.
Chandigarh has a great artist bank like Shiv Singh, Diwan Manna and Nek Chand. We could draw upon their immense talent to design good souvenirs for the Tourism Department.