An attempt to revive 'kissas'
Gayatri Rajwade
Tribune News Service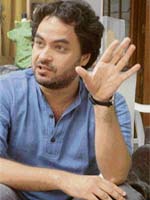 Gurvinder Singh
Chandigarh, September 2
'Pala' is film-maker Gurvinder Singh's commitment to nurture the dying tradition of 'kissas', the tradition of narrating folk legends, in Punjab.
In fact, right at the outset, Gurvinder tells us that his friend, scholar and musician Madan Gopal Singh has come across 36 kinds of 'Heer', all in the oral tradition. But this art is now being touched by the vagaries of time.
"Who has the time to sit and learn this form for years now," rues Gurvinder. He was in the city on a personal visit but spent time at the screening of 'Pala' by Hamshira at Press Club today and interacted with music and film aficionados alike.
The film profiles Pala or Harpal Singh, a storyteller, who does not belong to any single faith but adapts and transforms himself to the place where he performs. He, along with his musicians, travels from village to village, performing at temples, gurdwaras, shrines and fairs, singing folk-tales and faiths and celebrating the cultural fabric of Punjab.
The film, while documenting the cultural and musical traditions of the region, also delves into Pala's life, his beliefs and his passion that keeps this vanishing craft alive. "Pala is not from a musical family but spent his formative years assisting a singer from Ropar," says Gurvinder about his protagonist, who was also present at the screening today, having come from a fair at Haripur. Belonging to the Valmiki clan, Pala can not read or write but this does not, in any way, affect the stories mastered in the classic oral tradition of hearing his 'agu' sing. "Within two singers, the agu starts the phrase and the pichu completes it. Pala sang with his agu for ten to fifteen years, maybe more, and leant it all," he elucidates.
What marks the 'kissa' tradition apart from its oral roots, is that, it is a virtual musical and visual imagery of tales like Heer-Ranjha, Sassi-Punnu, heard since the time of our forefathers. "Today it is only the older people who come and listen. The younger ones wander in because of curiosity," says Gurvinder.
However, this tradition was not a part of Gurvinder's growing up years. Having been born and brought up in Delhi, he had no idea of Punjab. He began by wanting to be a poet. However, rummaging through world cinema while studying mass communication at Pune University, led him to FTII and film-making. A chance hearing of Sharief Idu (one of the most prominent Sufi dhadi singers of the state who lives in Mani Majra), had him hooked. Gurvinder started to research and read (which included J Swaminathani's work on musical traditions in Bastar, where he discovered that a legend from that region, had remarkably similarities to that of Ranjha.)
Curious to know how much of this music remains, he gave a proposal to the India Foundation of Arts and got a grant to document and research the traditional music of Punjab. The film came about from the work he did. "There are very few kissa singers left," says Gurvinder and believes that all the documentation and recordings have an archival value and is stored at the Archives and Research Centre for Ethnomusicology (ARCE), Gurgaon, and he is also working on creating a website that will promote the task of documenting and promoting ethno music.
His field recordings of these popular legends also feature on an album 'Kissa Punjab' and what Gurvinder has said about the recording sums up this tradition best: "This collection is dedicated to the indomitable spirit of the traditional performer who knows his days are numbered, but still trudges out on his old legs because that is the only way of living he has known."