M A I N N E W S
India Inc pay packs get bulkier
Brother Mukesh way ahead of Anil Ambani
New Delhi, September 2
When it comes to earning money, Mukesh Ambani is way ahead of not only his younger brother Anil, but the top brass of entire India Inc. With a package of close to Rs 25 crore, Mukesh takes home over 10 times the annual remuneration of his brother Anil - with whom he parted ways over two years ago.
When the brothers were together, they got a package of Rs 21.9 crore each at Reliance Industries in the financial year 2004-05, according to information available in the company's annual report.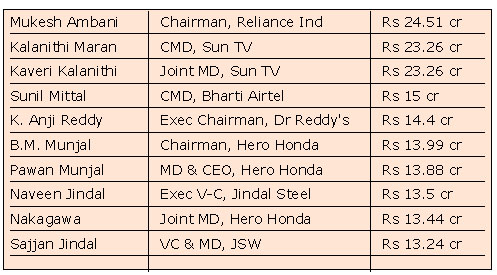 While Mukesh continues to hold the position of CMD at Reliance Industries (RIL), Anil was the vice-chairman and managing director till June 18, 2005.
In the latest fiscal year ended March 2007, Mukesh Ambani took home a total Rs 24.51 crore as CMD of RIL, which is the highest among more than 10,000 top executives and directors of about 1,200 companies that have so far disclosed their annual remuneration figures for the year.
Anil Ambani does not even figure in the top-100 list with a total remuneration of about Rs 2.42 crore from three of his group companies — Reliance Energy (REL), Reliance Communications (R-COM) and Reliance National Resources Ltd (RNRL). Anil's package as REL chairman was Rs 2.34 crore, while as RCom and RNRL chairman he got Rs 4.8 lakh and Rs 3.2 lakh, respectively.
RIL CMD is closely followed by Sun TV CMD Kalanithi Maran and joint MD Kavery Kalanithi, whose annual remuneration stood at Rs 23.26 crore each in 2006-07.
Telecom giant Bharti Airtel's CMD Sunil Mittal ranks at fourth position with close to Rs 15 crore, followed by Dr Reddy's Labs' executive chairman K Anji Reddy at the fifth rank with Rs 14.4 crore.
Two-wheeler major Hero Honda's chairman Brijmohan Lal Munjal and the company's MD and CEO Pawan Munjal are ranked at sixth and seventh positions with Rs 13.99 crore and Rs 13.88 crore each.
Jindal Steel's executive vice-chairman and MD Naveen Jindal comes at eighth position (Rs 13.5 crore), followed by Hero Honda's joint MD Toshiaki Nakagawa (Rs 13.44 crore) and JSW Steel's vice-chairman and MD Sajjan Jindal (Rs 13.24 crore) in the top ten in terms of annual pay package. — PTI