PUNJAB

HARYANA

JAMMU & KASHMIR

HIMACHAL

REGIONAL BRIEFS

NATION

OPINIONS

MAILBAG

BUSINESS

SPORTS

WORLD

CHANDIGARH

LUDHIANA

JALANDHAR

DELHI

HIMACHAL PLUS

HARYANA PLUS

AMRITSAR PLUS

LIFESTYLE
Tuesday, September 4, 2007, Chandigarh, India
Updated at 3:00 am (IST)

Bhutto, Aziz hold talks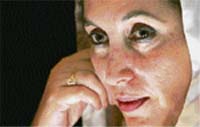 Islamabad, September 3
Former Pakistan prime minister Benazir Bhutto held fresh round of talks on Monday with President Pervez Musharraf's top aide Tariq Aziz in an effort to seal a power-sharing deal.
Meanwhile, another ex-PM rails against the General... A uniform has no place in our constitution, has no place in politics. An army has no role in politics according to our law...
— Nawaz Sharif
'Abuse' of Power
Khaleda, son held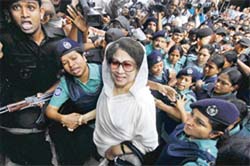 Dhaka, September 3
The police arrested Bangladesh's immediate past Prime Minister Khaleda Zia and her youngest son from their Dhaka Cantonment residence this morning on charges of abusing power while in office.
Former Bangladesh Prime Minister Khaleda Zia arrives at a court in Dhaka on Monday. The authorities jailed Zia in a corruption case involving container-terminal contracts, the second former premier detained in the interim government's crackdown on graft in Bangladeshi politics. — AP/PTI
CAST YOUR VOTE
Does India need a federal anti-terror agency?

ADVERTISEMENT
ADVERTISEMENT

BRIDES WANTED

GROOMS WANTED

OTHERS

HOW TO PLACE ADVTS

Lots of egg on Army's face
Notices served on 50 officers over supply of small-sized eggs
Chandigarh, September 3
Supply of small-sized eggs has created a big controversy in the Army. Headquarters Northern Command has initiated action against a large number of officers for failing to adhere to norms while issuing contracts for purchase of fresh eggs for troops, it is learnt.
12 injured as dera followers, Sikh groups clash
Alam Pur Mandra (Mansa), September 3
As many as 12 persons, including members of various Sikh organisations and followers of Dera Sacha Sauda, were injured when a clash took place between them in this village, 25 km from Mansa, today. The injured included two women.
Exploitation of Indians
UK's retail chains order probe
London, September 3
UK's major high street clothing retailers Primark and Mothercare have launched a probe following media reports of alleged exploitation of Indian workers who make clothes for them.

HOROSCOPE

E - Revolution 2005:
A Two-day IT conclave

Assembly Elections - 2005

Turbans

Chandigarh is 50

125 Years of The Tribune
India: The Tasks Ahead

EARLIER FEATURES

Intel launches tele-health project
Tindivanam, September 3
World's largest computer chip maker Intel Corporation today embarked on a programme here to transform healthcare in rural India along with the union ministry of health and family welfare, sending a message of social responsibility of MNCs operating in the country.
INSAT-4CR in good health
Thiruvananthapuram, September 3
A day after the successful launch of the GSLV-F04 from Sriharikota, Vikram Sarabhai Space Centre (VSSC) Director B.N. Suresh said ISRO's immediate plan was the launch of two more PSLV flights this year and a GSLV launch early next year.
IB fears trouble by foreign elements
New Delhi/Chennai, September 3
With the Intelligence Bureau cautioning that some foreign-based terrorist elements may foment trouble in the coming days, the Centre has alerted all states to keep a tight vigil, especially during the festivals, and monitor crowded places.

GSLV fires on all cylinders
September , 2007

When Advani said he won't contest
September 2, 2007

We never said deal on hold: Pranab
September 1, 2007
It's truce for now
August 31, 2007
Govt strikes down POTA demand
August 30, 2007
123: Bardhan has 5 questions to ask
August 29, 2007
123: Political deal in 4 days
August 28, 2007
AP govt blames terror groups in Pak, B'desh
August 27, 2007
Hyderabad twin blasts kill 41
August 26, 2007
Poacher Salman on the run
August 25, 2007