M A I N N E W S
Pak SC: When will Mush term end?
Afzal Khan writes from Islamabad
A Bench of the Supreme Court comprising seven judges and headed by Chief Justice Iftikhar Muhammad Chaudhry on Wednesday declined a stay order restraining President Musharraf from functioning for holding both offices of President and army chief.
The court said such an order would have a destabilising impact, paralysing the present system that was nearing an end in view of the elections.
It adjourned the hearing of petition of A.K. Dogar, president of the Lawyers Forum, seeking a review of the earlier dismissal of his case that challenged the validity of the 17th amendment and the dual office Bill that permitted Musharraf to retain his uniform.
In another case filed by MMA chief Qazi Hussain, the court, however, asked the attorney-general to inform it in writing when the term of Musharraf would end.
The court said, "things should be in black and white." The Bench pointedly asked Sharifuddin Pirzada, Musharraf's legal adviser, to enquire from the President when his dual office period would come to an end and get back to the apex court.
One of the judges, Faqir Muhammad Khokhar, even remarked during the hearing that in his opinion the President could not hold two offices "after the period ends".
The court then adjourned the hearing to tomorrow.
Talking to the media outside the court, the attorney-general said Musharraf would cease to hold the office after November 15.
He would take fresh oath after being elected as President from the present assemblies. He would take off his uniform after the elections and before taking fresh oath, he said, adding that Musharraf was eligible to contest in uniform for which no constitutional amendment was needed.
Benazir wants to meet Mush
Dubai: Benazir Bhutto on Wednesday said she was ready to meet Musharraf face to face. "There has been progress in some areas, and we are working on those areas," she said.
"I prefer face-to-face negotiations (but) between himself and myself. I also appreciate that he has got a country to run and that might be very difficult," she said when asked if she would meet Musharraf.
"There has been progress in some areas and we are working on those areas," she said, adding that the progress was "good". — ANI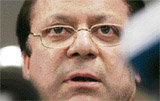 Islamabad, September 5
Former Premier Nawaz Sharif today said he would return to Pakistan on September 10 as planned despite reported reservation expressed by the Saudi Arabian government which provided him asylum for over six years after he was exiled by President Pervez Musharraf in 2000.
Declining to directly react to a reported comment by a spokesman for the Saudi government asking him to abide by an understanding reached before he went in exile in 2000, Sharif told Geo TV that there was no change in his plans to return to Pakistan. Sharif said he had a great respect for the Saudi Royal family.
He said the grim situation in Pakistan had beckoned him to return and "stand by the people of Pakistan". — PTI