Portable explosives detector
Dr S.S.Verma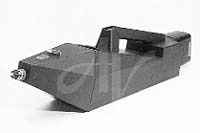 With growing terrorist we have to be more vigilant and active towards our safety. Hence, there is need of a portable, easy-to-handle and cheap explosive detector so that it can be acquired and carried by majority of people like present-day mobile revolution. This way it will be easy to detect our surroundings on our own for any threat from explosives and expert people can be informed or some other safe and suitable action can be taken for safe disposal of the explosives before any unwanted incident.
Portable explosive trace detectors with comprehensive explosive detection capabilities are being developed which trace both particulates and vapours, allowing for non-invasive searches of luggage, mail, vehicles, documents and containers etc. Such explosives detectors are highly sensitive, accurate and versatile non-contact screening systems. Some latest advances towards the development of portable explosives detector are summarised here and it is hoped that the day is not far away when such a device with suitable qualities will be within reach of a common man to take care of his own safety from the terrorist attacks.
Many companies with different facilities and costs have introduced an explosives detector based on the principal of "vapour tracer system''. This equipment can detect all types of explosives, including plastic, chemicals, and bomb-making parts as well as narcotics. Portable and light detector accurately identifies explosives and their intensity. The operation is based on the "ion trap mobility spectrometry" and can provide a detailed analysis of the explosives through the ion signal spectrum technique.
This technology, which has a high sensitivity, helps in determining the nature of the explosive content in detail. Explosives detector actually detect the chemical composition of the items that are in the machine being scanned, so item can be uniquely identified based on its chemical composition as opposed to just a simple density map (used in x-ray machines).
Efforts are being made to develop a single scanning machine that will detect explosives, weapons and drugs hidden in airport luggage. The technology can recognise about ten thousand chemical substances in seconds, as well as plastics in dangerous explosives, in around 10 seconds.
Minuscule silver wires a few nanometers across are proving to be versatile electronic components, as demonstrated recently by University of California, Berkeley, chemists who used silver nanowires as key elements of a sensitive explosives detector. The researchers made about a trillion silver nanowires - essentially nanocopic needles - and packed them tightly together in a thin layer, all needles pointing in the same direction. The layer of ordered nanowires made an ideal site for chemicals to bind for detection by a very sensitive technique called surface-enhanced Raman spectroscopy.
Many companies have come up with a cheap, mass-producible explosives detector that could be as sensitive as an optical spectrometer. This new explosives sensor technology is based on Micro Electro-Mechanical Sensors (MEMS). These microstructures are fabricated in a very similar fashion to mass produced electronic integrated circuits. MEMS can be designed as sensors for a wide diversity of physical, chemical and biological applications.
This detector uses a mechanical device that does not try to distinguish between different forms of explosives but simply warns when it touches anything that is likely to explode. The fundamental advantages of these explosive detection technologies are very low cost, extremely high sensitivity and real-time operation. A proof-of-principle prototype is currently under operation and several agencies have invested in the development of MEMS based sensor technology.
It is expected that in the times to come, portable explosive detector capable of detecting traces of plastic and high-vapour-pressure explosives - giving clear results with alarm, with easy usability and low cost will be available for a common man.
Moreover, these will be equipped with flexible power sources like rechargable DC external battery packs and AC adapter, making it convenient to use in virtually all application environments. They will be able to detect and identify minute traces of most military and commercially available explosives like C-4, TNT, Dynamite, PETN, Semtex, EGDN, DMNB, RDX, Nitroglycerine, ICAO and Taggants (DMNB, EGDN, o-MNT, p-MNT).
Future portable explosive detectors are expected to be self-contained, low-cost, lightweight, ready to use when and where needed with a minimum operation time allowing for non-invasive searches of luggage, mail, vehicles, documents and containers.